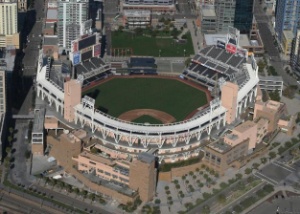 Petco Park Begins Baseball Season with Upgraded Wireless System from CommScope
By LadyDragon
HICKORY, N.C.--(LadyDragon.com)07/04/11--San Diego's Petco Park has upped its wireless game, calling on CommScope to supply a complete in-stadium distributed antenna system (DAS) that will provide reliable wireless services for visiting baseball fans.
"That many people using increasingly bandwidth-hungry services can overwhelm cellular networks unless there are dedicated solutions like ours in place."
"Sporting events bring together tens of thousands of people, many of whom want to check scores via mobile web, send text messages, share photos, or call loved ones back home using their mobile devices," said Matt Melester, senior vice president and general manager, Wireless Innovations, CommScope. "That many people using increasingly bandwidth-hungry services can overwhelm cellular networks unless there are dedicated solutions like ours in place."
Petco Park is just one of the many stadium, airport, mall, and subway system projects for which CommScope, a global leader in infrastructure solutions for communication networks, has deployed its ION™-B DAS solution. The ION-B Series, part of the Andrew Solutions RF Applications portfolio, is a radio-over-fiber DAS that meets the distribution needs of the simplest to the most complex indoor applications. With ION, baseball fans visiting Petco Park can count on reliable wireless coverage and fast connection speeds wherever they are in the stadium.
"Though most baseball stadiums are open air with wireless coverage possible from outside the stadium, the amount of users and the advanced services they are accessing are just too much anymore without a DAS," said Melester.
CommScope designed, supplied, installed, and commissioned its ION-B solution for Petco Park. The ION-B is capable of transporting frequencies from 800 to 2700 MHz, from traditional cellular to Wi-Fi signals, regardless of protocol or modulation. It includes a centralized and flexible radio network interface and uses the same single mode fiber transport for all frequencies and technologies simultaneously.
As a leading provider of coverage and capacity solutions, CommScope offers a comprehensive portfolio of Andrew Solutions wireless products that includes ION, the Node A multi-band repeater platform, RADIAX® radiating coaxial cable, in-building antennas, supporting passive devices, and worldwide support teams for network design, installation and testing. The company has nearly 20 years of experience designing, installing, and managing large and complex wireless networks in airports, stadiums, and other large buildings. CommScope coverage and capacity solutions are also used in high speed railways and other in-train applications globally.
The Andrew family of ION solutions provides optimized, easy-to-scale, fiber-based distribution solutions for indoor and outdoor applications. Homogeneous coverage and sufficient capacity can be provided from car park through stairwell to office or exhibition hall with maximum quality and grade of service. Wireless operators can choose from a wide variety of power levels and other features to maximize coverage and quality while optimizing cost. All ION units interface to the Andrew Integrated Management and Operating System (A.I.M.O.S.).
RADIAX is a registered trademark and ION is a trademark of CommScope, Inc.
About CommScope:
CommScope® (www.commscope.com) has played a role in virtually all the world's best communication networks. We create the infrastructure that connects people and technologies through every evolution. Our portfolio of end-to-end solutions includes everything our customers need to build high-performing wired and wireless networks. As much as technology changes, our goal remains the same: to help our customers create, innovate, design, and build faster and better. We'll never stop connecting and evolving networks for the business of life at home, at work, and on the go.