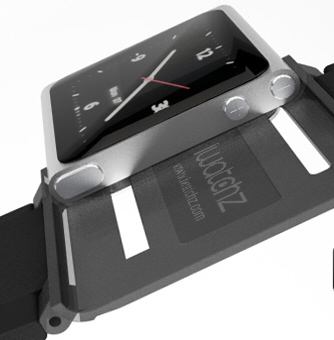 iWatchz Launches Carbon and Jelly Collections at CES 2011
By LadyDragon
2011 International Consumer Show (CES)
LAS VEGAS--(LadyDragon.com)10/01/11--iWatchz announces the launch of the Carbon and Jelly Collections to rave reviews at the CES Show.
The Jelly Collection features a translucent-coloured nanoclipz system and matching vibrant silicon watchbands in pink, orange, red, green, blue, white and grey. The Jelly Collection will be available at retailers nationwide and at www.iwatchz.com in early February 2011 for $24.95 USD.
The Carbon Collection features a matte-black aluminum nanoclipz system and a carbon watchband accented with coloured stitching available in six colours. The Carbon Collection will be available in early February 2011 at over 250 Apple Stores nationwide, Apple.com and www.iwatchz.com at $49.95 USD.
The company's first product line, the Q Collection®, was launched in early December in over 250 Apple stores nationwide, at Apple.com, and at the company's website www.iwatchz.com
iWatchz was quickly propelled to the top spot in the new market of iPod Nano Watchbands in only the few weeks leading up to the holidays. The company's president attributes the success of their product to its easy-of-use, stylish design, and affordable pricing. The fact that iWatchz were also able to deliver product to consumers in time for holiday gift-giving certainly did not hurt either!
iWatchz patented nanoclipz watch integration system enables users to transform their iPod nano (6th generation) into a stylish wristwatch.
"The Q Collection represents the foundation of the iWatchz brand," offers the iWatchz President. "We are now responding to the market's request for various collections for different demographics of customers. The Carbon Collection is by far the most high-end and stylish product on the market, while the Jelly Collection was developed for a younger audience with vibrant colours and softer, more flexible watchbands. We were overwhelmed with the positive response to our initial launch and are thrilled with the two additional collections launching here at the CES Show."