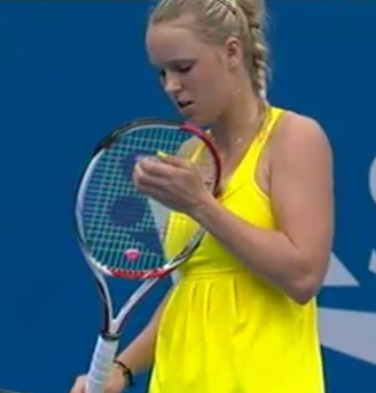 Caroline Wozniacki out of the 2011 Medibank International Sydney
By LadyDragon
SIDNEY, AUSTRALIA--(LadyDragon.com)11/01/11--Caroline Wozniacki losses in 2 straight set against Dominika Cibulkova.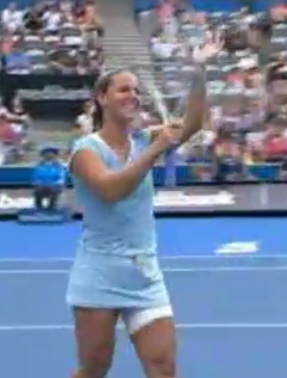 Caroline serving first and gets broken 1-0. Very long game by Dominika and a good ball on the line challenged by Caroline give her a 2 game lead. At 0-30 coroline asked the empire to come down and check the line, they play on and Caroline holds, 2-1. Quicker game this time and after being donw 2 break points Dominika comes fights back to hold her serve, 3-1. Caroline serving better now with a quick hold to Love,2-3. After 31 minutes of play 15 all Dominika double faulted and they stop the play due to rain at 15-30. Players are back inside.
After a 10 minutes delay play resumes but at 30-40 play stops again. after about a 5 minutes delay play resumes.
Despite these 2 delays they both holds their serve, 4-3. Dominika break and hold to win the first set, 6-3.
On serve at 2 all Coroline breaks and they stop play again, 3-2. After a few minutes play resumes and Caroline get broken, 3 all. Long game and after 3 deuces Dominika holds, 4-3. Caroline ask to speak to her coach. A long ball from Caroline give the game to Dominika, 5-3. Dominika serving for the match and wins it, 6-3 in 1 hour and 40 minutes.
The weather and the on and off play seams to have bother Caroline much more then Dominika.