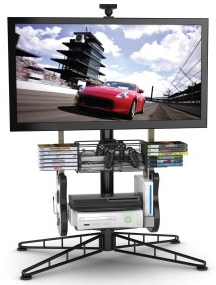 Atlantic Inc. Adds High Tech Spyder Gaming Hub to Game Storage Collection
By LadyDragon
2011 International Consumer Show (CES)
LAS VEGAS--(LadyDragon.com)11/01/11--Innovative storage solution for growing video game market. A resurgence in video game hardware and software sales last year rekindled excitement in this $20 billion market. Consoles, new motion controllers and next editions of popular games sparked holiday purchases. As consumers stock up on more game gear and find they need to get organized, Atlantic has expanded its Game Storage Collection, to address the growing demand for storage.
Residences aren't getting any larger, and the question is where do you put all those wonderful new video game systems and accessories. Leo Dardashti, Atlantic's President and CEO explained "We merged game storage with a clean, sleek, metal TV stand to achieve a small foot print."
Spyder marries a steel frame structure with storage for games, consoles and accessories to form a high tech platform for up to a 40 inch flat panel TV up to 90 lbs. Steel center cylinder and rods are powder-coated, so they won't tarnish, chip or discolor. This frame offers the solid stability of steel construction and adjustable non-marring feet. The component shelf supports three consoles weighing up to 60 lbs. The open architecture promotes airflow to keep valuable electronics running cool. A storage basket holds game controllers, while a twelve game cartridge rack provides easy access to games.
A rear mounted power strip tray and wire management cleat organizes the maze of cords to maintain a clean look. Attaching a flat screen is easy with a very simple 4 hook mounting system. Two VESA 400x400 mounting brackets with hooks are attached to flat panel back, which then securely mates with the TV stand mounting frame.
To top it all off, Atlantic leads the game storage field in fulfilling consumer desires for a greener way of life, by using recyclable steel and keeping packages lighter and reduced costs during shipping.
Most people can comfortably move the 27 lb package from store to home. Constructed from 12 large parts, Spyder is easy to assemble. Comparable units often require hours of assembly, while Spyder takes less than 30 minutes, suiting the busy lives of today's eager gamers and their desire for simplification.
Spyder is offered in a black metallic powder coated steel finish. Available in March, Atlantic's Spyder will retail for $129.
About Atlantic Inc.
For 25 years, Atlantic Inc. has designed and manufactured innovative and award-winning consumer media storage products that embody the company's philosophy of providing products that are the state-of-the-art in organized living. Atlantic is a category leader in home media storage and a category innovator in home entertainment storage and gaming storage solutions. Based in Santa Fe Springs, Calif., Atlantic has received numerous patents and awards, including 13 Design & Engineering Showcase Honors from the annual Consumer Electronics Show (CES) Innovations Committee. For more information about Atlantic or its products, please visit the company's Web site at www.atlantic-inc.com