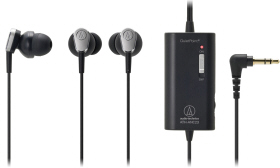 Audio-Technica is Introducing More Than 30 New Headphones Plus USB Mics, USB Turntables and More at CES 2011
By LadyDragon
2011 International Consumer Show (CES)
LAS VEGAS--(LadyDragon.com)11/01/11--At CES 2011, Audio-Technica is introducing more than 30 new headphones, along with USB microphones designed for home music recording and podcasting. The company is also featuring its latest USB turntable and a host of additional products at the Las Vegas Convention Center, South Hall 1, Booth 20955.
The new in-ear ATH-ANC23 QuietPoint® active noise-cancelling (ANC) headphones combine industry-leading 90% active noise-cancelling performance with superior sound quality and outstanding value at a suggested retail price of under $100 (SRP: $99.95; MAP: $79.95). The headphones feature Audio-Technica's new Comply™ ear tips for unmatched comfort, along with a handy in-line volume control.
The all-new Solid Bass headphones deliver impactful bass along with accurate midrange and highs, for those who want to hear hard rock, hip-hop, electronica and other bass-driven music the way it was meant to be heard. Models include the in-ear ATH-CKS50 and ATH-CKS70 and the over-ear ATH-WS50 and ATH-WS70 (SRP: $69.95 - $149.95)
Three audiophile headphones are being introduced – the ATH-W1000x, ATH-AD900 and ATH-A900, all incorporating a host of engineering refinements to deliver exceptional fidelity and musical realism. (SRP: $249.99 - $699.95)
Two USB microphones making their debut at CES are ideal for home music recording and podcasting. The handheld ATR2100-USB and side-address ATR2500-USB enable consumers to easily create professional-quality recordings. (SRP: $79.95, $99.95)
Audio-Technica is having a sneak preview of a variety of new headphones that will be available throughout 2011 in a wide range of styles and colors, including in-ear, on-ear, Bluetooth, sports, DJ and portable models.
Recently introduced and now shipping, the sleek, stylish AT-LP240-USB analog and USB turntable makes it easy to transfer favorite records to digital music files. (SRP: $499.00)
Note: All product links go to product profiles and downloadable high-res photos.
Celebrating 49 years of audio excellence, Audio-Technica is renowned worldwide for a broad range of consumer and professional audio products, including high-performance headphones, microphones, wireless systems, turntables and phono cartridges. Winner of numerous industry awards, Audio-Technica designs and manufactures products that set quality, durability and price/performance standards for major concert tours, broadcast and recording studios, corporate and government facilities, theaters, house-of-worship venues, and consumer applications. Learn more at www.audio-technica.com