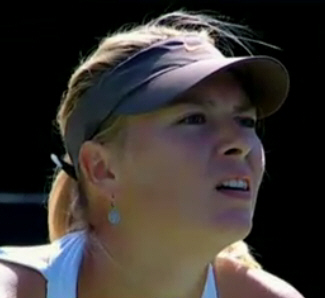 Maria Sharapova losses over Galina Voskoboeva at the 2011 Rogers Cup
By LadyDragon
TORONTO, Canada--(LadyDragon.com)11/08/11--Maria #5 losses against #135 Galina Voskoboeva in 2 set 6-3, 7-5 in 1 hour 47 minutes.
Galina is the #1 player in Kazakhstan.
Galina serving first.
Close game but she holds, 1-0. on serve at 2-1. It is a very windy day by the way. Maria holds to Love, 2 all. Long close game again but Galina holds, 3-2. A great drop shot from Galina gives her 2 break points but Maria brings it back to deuce but the wind seams to opportune her and a ball in the net give the game to Galina, 4-2. Galina hold to 15 for a 5-2 lead. Now Maria serving to stay in the set. Maria starts with a double fault her third of the match but gets back on track to hold to 30, 5-3. Now Galina serving for the set and wins it 6-3 in 37 minutes.
Maria asked to speak to her coach.
Long close game but Maria prevails,1-0. Momentum shift now, Maria on fire and she breaks, 2-0. Galina very upset after this game lost. Unfortunatly 2 double faults from Maria was too much and losses the game, 2-1. Oh dear, a ball in the net give the game to Galina, 2 all. 40-15 then Galina gets a break point but 2 poor drop shots from Galina allows Maria to come back and to win point, 3-2. Good game from Maria and breaks again, 4-2. Galina breaks right back 4-3. Galina wins the next 2 games and now will serve for the match, 5-4. 3 match points and then 2 double faults and Maria breaks, 5 all. Galina breaks and finally holds to win the set 7-5 and the match.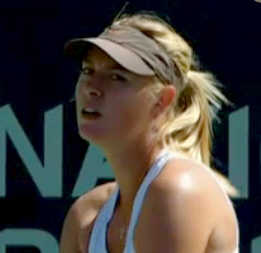 Maria unfortunatly now at best today and Galina played very well and wins the biggest match of her life.