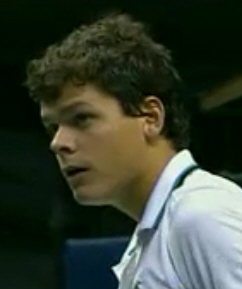 Milos Raonic wins his first ATP Title
By LadyDragon
SAN JOSE, California--(LadyDragon.com)13/02/11-- Milos Raonic wins the SAP Open Championship 2011 over Fernando Verdasco 7-6, 7-6 in 1 hour and 51 minutes.
Top seed and World No. 9 Fernando Verdasco of Spain looks to defend a title for the first time in his career as he faces top Canadian Milos Raonic for the first time. At 20 years, 1 month, 17 days, Raonic is trying to become the youngest winner on the ATP World Tour since Marin Cilic (19 years, 11 months) won in New Haven on Aug. 23, 2008.
The last back-to-back SAP Open champion was Andy Murray in 2006-07. Both players, who are 7-2 on the season, have been at their top level this week, not dropping a set (14-0) and holding a combined 70 of 72 service games. Murray is the last player 20-under to win the title here (19 years, 9 months) in 2007.
The last left-hander to win back-to-back Bay Area titles was John McEnroe in 1978-79.
Raonic is attempting to become the fourth player to win his first career ATP World Tour title in the Open Era at this tournament:
Fernando Verdasco
- Verdasco, 27, is looking to repeat an ATP World Tour title for the first time in his career
- The Madrid native is appearing in his 14th career ATP World Tour final (5-8) and he's trying to capture his third title in the U.S. ('09 New Haven, '10 San Jose)
- He leads the tournament in service games won (98%, 40 of 41) and the only time he was broken came (after 37 straight games held) in the fourth game of the second set vs. del Potro on Saturday
- He opened the season Down Under with a first round loss to Benjamin Becker in Brisbane and he followed with a fourth round showing at the Australian Open (l. to Berdych)
Milos Raonic
- Raonic, 20, who is appearing in his eighth career ATP World Tour level tournament, is playing his fifth career Top 10 opponent (1-3)
- At last month's Australian Open, he qualified and posted wins over Bjorn Phau, No. 24 Michael Llodra and No. 10 Mikhail Youzhny before losing to No. 7 David Ferrer in four sets
- He leads the tournament in aces (45), first serve points won (87%) and is No. 2 in service games won (97%) and break points saved (80%, four of five)
- He is trying to become the first Canadian to win an ATP World Tour title since Greg Rusedski captured the title in Seoul in April 1995 (he also won in Newport in July 1993)
- The Thornhill, Ontario resident has made the biggest jump from last year's year-end South African Airways ATP Rankings, improving from No. 156 to No. 84 and he is guaranteed to going to around No. 66 with his result thus far and around No. 59 if he wins the title
- At this time one year ago he was ranked No. 360 and he was in the middle of a European trip that consisted of the German Futures, French Futures and the qualifying at the Belgrade Challenger
The first set was concluded with a Tie Break where Fernanado was leading 6-2 then Milos fought back and actually wins it 8-6.
Second set ended the same way with a Tie Break 7-5 and a win for Milos in 1 hour 51 minutes.
His ability to serve very well at pivital time and the way he constructs a point combined with the way he defends them is the reason of his great success this year.
Milos started the year ranked No. 156 now with this win he should be ranked No. 59 in the world.