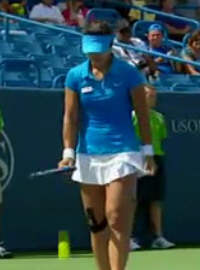 Na Li wins over Lucie Safarova at the 2011 Western & Southern Open in Cincinnati
By LadyDragon
CINCINNATI, USA--(LadyDragon.com)16/08/11--Na Li wins over Lucie Safarova in 2 sets 6-3, 6-4 at the 2011 Western & Southern Open in Cincinnati.
LI is ranked #5 and Lucie #29.
They have met 3 times and it is 2-1 for Li.
Li serving first.
Li double faulted and looses the game, 1-0. Lucie holds, 2-0. Li wins her first game, 2-1. Like Li, Lucie double faulted to give the break back to Li. Back on serve 2 all. Ace#3 from Li allows her to win her third game in row, 3-2. After this Li continues to break and Lucie only wins one more game and Li take the first set 6-3.
Lucie asked to speak with her coach and it seams to help her because she wins her game, 1-0. Li keeps winning games and breaks and takes a 5-1 lead. Lucie fights back to win 3 games in a row to bring it to 5-4. Finally Li closes the match and win the set 6-4.
Unfortunatly too many errors from Lucie 27- 24 and only 11 winners -19.
Plus her her serve let her down today only 43% first in -70% with no ace compare to 4 for Li.
Li played well only got a little problem closing the match at the end though.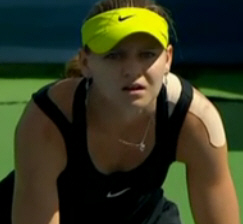 About the 2011 Western & Southern Open in Cincinnati
Cincinnati's 2011 event shapes up like this: 8 days of main draw action, 8 match courts on the grounds of the Lindner Family Tennis Center, 250,000 fans and 2 singles champions at the end of the week.
2010 Champions Roger Federer and Kim Clijsters will try to defend their titles by fending off names like Rafael Nadal, Serena Williams, Novak Djokovic, Maria Sharapova and the rest of the top ranked players in the world.
The Western & Southern Open is a Premier event for the WTA (Women's Tennis Association). It is estimated that at least 7 of the world's top 10 players will enter to compete for this prestigious title.
On the men's side, the Open is one of the largest, oldest and most respected events in the world of tennis. It is one of nine elite ATP World Tour Masters 1000 events, the strongest and most important tournaments on the ATP World Tour where all the top players are automatically entered.
By combining these two tournaments, the event becomes one of only five in the world with at least an ATP Masters 1000 and a WTA Premier event playing at the same venue during the same week(s).