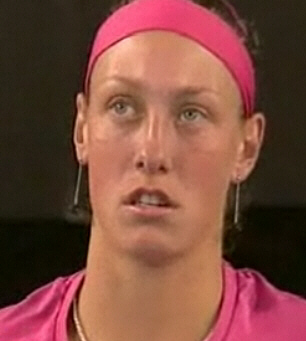 Yanina Wickmayer wins over Jarmila Groth at the Australian Open 2011
By LadyDragon
MELBOURNE, Australia--(LadyDragon.com)17/01/11--Yanina Wickmayer wins over Jarmila Groth at the Australian Open 2011
Yanina serving first holding with 1 ace, 1-0, Jarmila holding as well with 2 aces, 1 all. Yanina holds and get the first break, 3-1. Yanina holds 4-1. Long hard fought game with her third ace gives her the game 4-2. Yanina holds to 15 then the rain start to fall, 5-2. Play has stoped. Play resumes after a few minutes of delay. Jarmila holds, 5-3. Yanina had 2 set points points and holds to win the first set 6-3 in 43 minutes.
Too much errors from jarmila twice then Yanina, 14-7.
Jarmila serving first and a ball too long give the game to Yanina, 1-0. Yanina holds to Love with her fourth ace, 2-0. Jarmila finally holds, 2-1. Jarmilkla fights and break Yanina'serve 2 all. Good service game and her fifth ace, Jarmila now lead 3-2. A long game and Jarmila breaks, 4-2. Jarmila erase a break point and finally hold plus she had her sixth ace, 5-2. Great fight back from Jarmila to actually break and win the second set 6-2 in 38 minutes.
Awfull game from Jarmilla gets broken and the crowd is dead silence in shock, 1-0. Yanina holds, 2-0. Jarmila holds to Love quickly, 2-1. Jarmila had 4 break points and failed to capitalize on itm 3-1. An other quick hold 3-2. Now a quick hold from Yanina, 4-2. Very tensed game Jarmila almost lost it but came back to get the game, 4-3. Yanina holds and now Jarmila serving to stay in the match, 5-3. An other dramatic game from Jarmila erases 2 match point to stay in the match, 5-4. Yanina serving for the match and does so 6-4 in 2 hours and 6 minutes.
Close match Yanina won 93/91 points but too much errors from Jarmila 49/24.