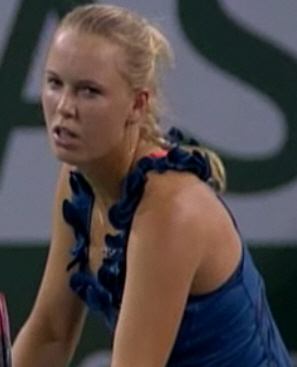 Caroline Wozniacki wins over Maria Sharapova at the BNP Paribas Open in Indians Wells.
By LadyDragon
INDIANS WELLS, U.S.A.--(LadyDragon.com)18/03/11--Caroline will meet Marion Bartoli in the final.
They have met 3 times and Maria leads 2-1.
Caroline serving first. A 7 minutes opening game where Maria has 2 break opportunities and takes the second one 1-0. An other 7 minutes game this time Caroline saw 3 break points and Maria made 2 double faults, 1 all. A quicker and better game now from Caroline 2-1. Double fault #3 from Maria gives the game to Caroline, 3-1. A close game but Caroline keeps her lead 4-1. Maria asked to speak to her coach. Maria starts her serving game very well 40-0 then she double fault and then everything goes down to hell from there, she losses 4 more points in a row to give an other game to Caroline, 5-1. Caroline serving for the set and wins the first set in 43 minutes 6-1. Caroline is now talking with her coach.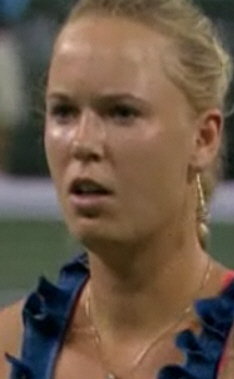 Maria has too much problems serving 5 double faults and made too many errors 22 at the worst time as oppose to Caroline only 9 errors.

Maria serving first and again losses her serve but breaks right back, 1 all. Good game from Maria plus now it is Caroline that is making more errors and her father is sitting there and shaking his head. Long hard fough game from both of Ladies, 2 all. An other long hard fought game and poor Maria double fault #7 again to give the game to Caroline, 3-2. Caroline holds to love 4-2. Maria goes down to 15-40 and again double fault #8 give an other game to Caroline where she will now serve for the match, 5-2. Caroline wins the second set 6-2 and the match in 1 hour and 20 minutes.
Too many errors from Maria and Caroline too solid tonit.
Caroline will play in the final against Marion Bartoli.