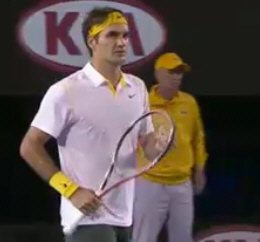 Roger Federer wins over Gilles Simon at the Australian Open 2011
By LadyDragon
MELBOURNE, Australia--(LadyDragon.com)19/01/11--Roger Federer wins over Gilles Simon in 5 sets at the Australian Open 2011
Roger was cruising through the first 2 set 6-2, 6-3 then everything went down to hell.
He started to make many errors and losing his serve and then he started to loose sets, the next 2 actually 6-4 and 6-4.
All of the sudden the crowd started to wonder will Roger loose this match.
Roger serving first in the last set and holds to 15, 1-0. Gilles holds to 15 1 all. From 0-30 Roger comes back to hold 2-1. Gilles gets the first 2 points then Rogers wins 2 then he finally holds 2 all. Roger holds to 30. Close game and he losses the game, 4-2. Roger playing better less errors as oppose to Gilles that his starting make errors. Roger holds to 15, 5-2. Gilles started 0-40 and manage to save 3 match points. Now Roger serving for the match and does so to the set 6-3 and the match in 3 hours and 11 minutes. Tense last game Roger had a match point and lost it and on his fifth match point he serve an ace to win.