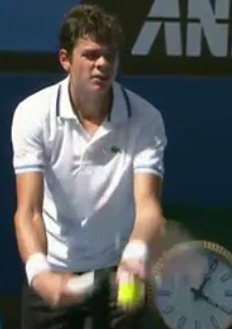 Milos Raonic losses to David Ferrer at the Australian Open 2011
By LadyDragon
MELBOURNE, Australia--(LadyDragon.com)24/01/11--Milos losses but now at #152 in the world he will be in the Top 100 next week after the Australian Open 2011.
David serving first, on serve until 3-2. Milos saving a break point with 3 great serves in a row 3 all. 40-0 Milos wins 5 points in a row to get a break point unfortunatly a long ball brings it to deuce but Milos keeps attacking and gets an other break point, An unreaturnable serve save the point for David, Milos gets is third break point and this time break 4-3. Milos has a very positive attitude so far and playing well. Long close game and Milos holds 5-3. 40-15 and Milos brings it to deuce but David holds 5-4. Milos will now serve for the set. A forehand winner 15-0, ace# 5-6-7 and quickly he holds to Love and wins the first set 6-4 in 40 minutes.
Very impressive good start from Milos with 7/1 aces and 22/5 winners plus approched yo the net is done often and succcessfully 14/17 - 1/1. Milos needs to improve on his errors though 22/5.
Again David serving first and holds to deuce 1-0. Milos keeps acing#8 and hitting winners#26, 1 all. David holds easely 2-1. They both hold 3-2. Milos makes his first double fault and gives 3 break points to David and he breaks 4-2. David holds to 15 for a 5-2 lead. Errors are creeping in for Milos and he losses the second set 6-2 in 39 minutes.
Errors are killing Milos 17/1
For the the third time in a row David is serving first, Milos keeps attacking getting 2 break points but fails to break 1-0. Great game from Milos, holds to Love 1 all. A quick hold to Love from David 2-1. Ace#10 from Milos helps him to win this game 2 all. Milos has 2 break points but David brings it to deuce and holding 3-2. Milos for the match has a record 1/7 and 0/4 in this set for break points conversions. Plus errors keeps killing him 46/4. Good thing he is still serving aces#11, 3 all. Not a good game from Milos again he is facing a set lost 5-4. David holds to 15 to wins the third set 6-3 in 34 minutes.
Errors keeps killing Milos 18/5 in this set but for the entire match it is 54/7.
For the first time in the match Milos will be serving first in the fourth set but unfortunatly is losses his serve 1-0. David on a roll holds to Love 2-0. Much better serving game ace# 12 helps him wins this game to Love 2-1. David holds to 30, 3-1. Milos dropping this game to give David a 2 breaks advantage 4-1. Milos is fighting back again and gets 1 break back 4-2. Ace# 13 helps Milos him wins this game 4-3. David and Milos Holds 5-4. David wins the set 6-4 and the match in 155 minutes.
Great effort from Milos but 68/10 in errors prevented him to win today. David even though he lost the first set, kept playing well winning 131/109 of the total points won.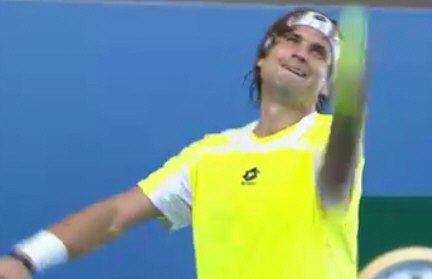 David will play the winner of the Nala and Cilic match