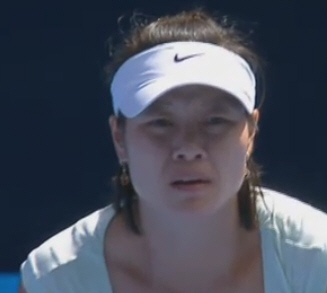 Na Li wins over Andreas Petkovic at the Australian Open 2011
By LadyDragon
MELBOURNE, Australia--(LadyDragon.com)25/01/11--Na Li wins over Andreas Petkovic 7-6, 6-2 in 80 minutes at the Australian Open 2011.
In a long game of 8 minutes, Andreas breaks 1-0. Andreas holds with her first ace 2-0. Li gets her first hold 2-1. Li breaks and holds 3-2. Li wins 4 games in row with this break 4-2. Li holds to love and now Andrea serving to stay in the set 5-2. A ball in the gives the game and the first set to Li 6-2 in 35 minutes.
The major difference is that Li is winning most of the points 31/18
Li serving first and again gets broken by Andreas 1-0. That break ends the 6 winning games in a row from Li. Andreas holds to 30. Li wins her first game of the second set 2-1. Li break and holds to take a 3-2 lead. In a long close game Andreas finally holds 3 all. Li holds 4-3. Li holds to 30 4 all. Li holds to 15, 5-4. Andreas serving to stay in the match. Li breaks to win the set 6-4 and the match in 80 minutes.