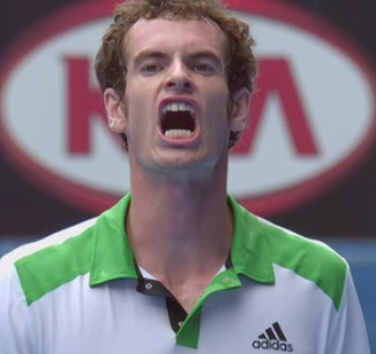 Andy Murray wins over Alexandr Dolgopolov at the Australian Open 2011
By LadyDragon
MELBOURNE, Australia--(LadyDragon.com)26/01/11--Andy Murray wins over Alexandr Dolgopolov 7-5, 6-3, 6-7, 6-3 in 156 minutes at the Australian Open 2011.
Andy leading 3-1. Andy holds to 15, 4-1. From 0-30, in a long close game Alexandr holds 4-2. Andy is broken to 15, 4-3. Alexandr holds to 15. Andy holds to 15, 5-4. 5 all, 6-5. Alexandr serving to stay in the set and Andy breaks to win the first set 7-5 in 57 minutes.
2-1, on serve and Andy breaks and holds 4-1. Alexandr holds 4-2. Andy holds to Love 5-2. Andy fails to break so now he will serve for the set 5-3. Andy wins the second set 6-3 in 36 minutes.
Andy start the third set with 2 games 2-0. Alexandr holds to Love 2-1. Andy holds to 15, 3-1. Alexandr holds and breaks 3 all. Alexandr holds for a 4-3 lead. 5 all. A very long game at deuce#5 a 35 strokes rally to give a game point to Alexandr and he holds 6-5. Andy serving to stay in this set. Andy brings us to a Tie Break 6 all.
1-0 Alexandr, 1 all, 2-1 Andy, 2 all, 3-2 Alexandr, 4-2, double fault from Andy 5-2, 5-3 Alexandr, 6-3 Alexandr. Alexandr wins the TB 7-3 and the third set 7-6 in 61 minutes.
Andy made 12 errors in this set although it is not that much, the timing of them were pivital like the last point to give the third set to Alexandr.
As for Alexandr he stepped it up with 5 aces and 22 winners.
Andy serving first and holds to Love with his 7 aces of the match 1-0. Andy wins the next 3 games for a 4-0 lead. Alexandr holds 4-1. At 5-3 Andy serving for the match. Andy wins the foutyj set 6-3 and the match in 156 minutes.