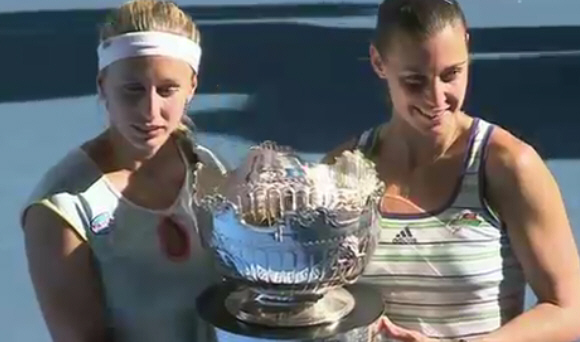 Flavia Pennetta and Gisela Dulko win the Women Double Championship at the Australian Open 2011 over Maria Kirilenko and Victoria Azarenka
By LadyDragon
MELBOURNE, Australia--(LadyDragon.com)28/01/11--Flavia and Gisela win in 3 set 2-6, 6-2, 6-1 at the Australian Open 2011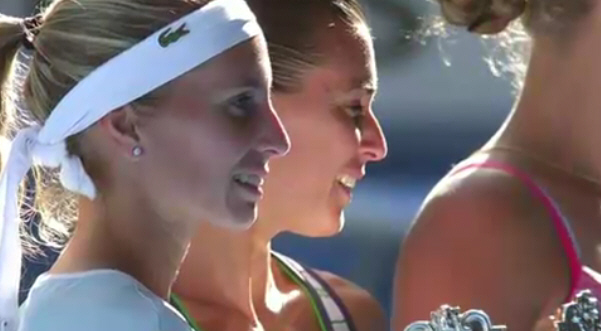 [1] GISELA DULKO (ARG)/FLAVIA PENNETTA (ITA) vs.[12] VICTORIA AZARENKA (BLR)/MARIA KIRILENKO (RUS)
HEAD TO HEAD: Series tied 1-1
2010 CINCINNATI HARD O SF AZARENKA/KIRILENKO 62 61
2010 MOSCOW HARD I SF DULKO/PENNETTA 76(3) 64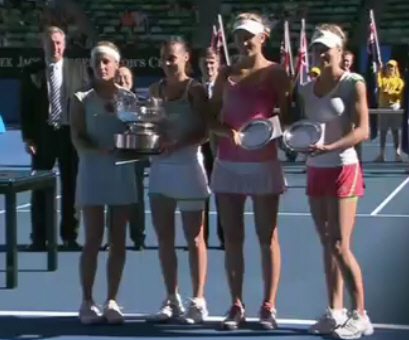 GISELA DULKO (ARG) / FLAVIA PENNETTA (ITA)
career doubles record as a team: 78-19
Born: January 30, 1985 (25; turns 26 on Sunday) Born: February 25, 1982 (28)
Birthplace: Buenos Aires, Argentina Birthplace: Brindisi, Italy
Resides: Buenos Aires, Argentina Resides: Verbier, Switzerland
- Dulko/ Pennetta are playing their first Grand Slam doubles final as a team. Their best previous GS result as a team is a SF finish at 2010Wimbledon; they reached QF at the othermajors in 2010
- Individually, Pennetta's best GS doubles result was as runner-up at 2005 US Open (w/Dementieva, l. Raymond/Stosur), Dulko has posted her best Grand Slam doubles results with Pennetta
- Dulko/Pennetta first teamed up in 2006, winning their first event at Bogota; in 2009, they played 5 events alongside each other, with titles at Hobart and Bastad and runner-up finishes at Bogota and Stuttgart
- In 2010, Dulko/Pennetta were the leading doubles team, winning 7 titles (Miami, Stuttgart, Rome, Bastad, Montreal, Moscow, Doha) and finishing runners-up twice (Madrid, Beijing); including a 17-match winning streak
- Dulko and Pennetta rose to No.1 and No.2 respectively in the WTA doubles rankings after the WTA Championships- Doha on November 1, 2010, and will remain in those positions after today, win or lose
- In addition to the 10 WTA doubles titles she has won with Pennetta, Dulko has won 6 more doubles titles with 6 different partners; Pennetta has won 13 WTA doubles titles with 4 partners: 10 titles w/Dulko; also won titles with Dementieva (2005 Los Angeles), Kirilenko (2008 Estoril) and Errani (2009 's-Hertogenbosch)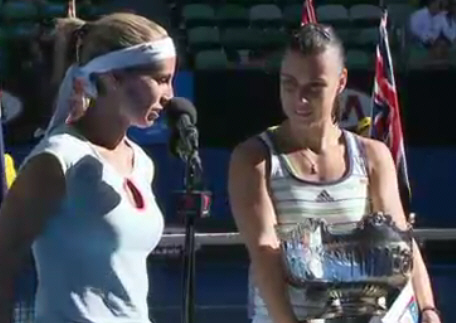 - The last Argentine woman to win a Grand Slam title was Paola Suarez, who won the last of her 8 doubles titles at 2005 Roland Garros (w/Ruano Pascual)
- Pennetta is the first Italian ever to reach a final in any of the five main events at the Australian Open
- This is their second tournament of the year, they fell 1r at Sydney (as No.1 seeds, l. Jans/Rosolska)
- In 2011 Australian Open singles draw, Pennetta reached the 4r (l. Kvitova); Dulko fell in 1r (l. Wozniacki)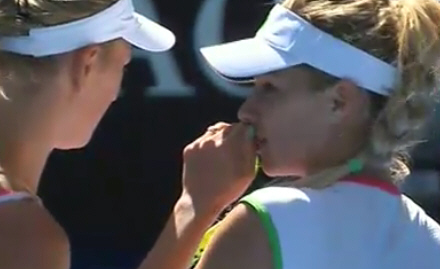 VICTORIA AZARENKA (BLR) / MARIA KIRILENKO (RUS)
career doubles record as a team: 16-3
Born: July 31, 1989 (21) Born: January 25, 1987 (24)
Birthplace:Minsk, Belarus Birthplace:Moscow, Russia
Resides: Scottsdale, AZ, USA Resides:Moscow, Russia
- Azarenka/Kirilenko are playing their first Grand Slam tournament together
- Azarenka is a two-time Grand Slam doubles finalist at 2008 Australian Open (w/Peer, l. A.Bondarenko/K.Bondarenko) and 2009 Roland Garros (w/Vesnina, l. Medina Garrigues/Ruano Pascual)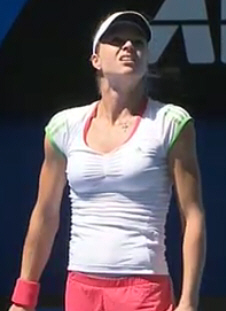 - Kirilenko's best Grand Slam doubles result is SF at 2010 Australian Open (w/A.Radwanska)
- This is only the 6th time Azarenka and Kirilenko have played doubles together; they first played at 2007 New Haven (reaching QF), then teamed up for 3 events in 2010 (winning Cincinnati, and reaching SF at Stanford and Moscow)
- Azarenka/Kirilenko played at Sydney 2 weeks ago, reaching QF before withdrawing due to injury (Azarenka, low back)
- Today is Azarenka's 13th career doubles final; she has a 4-8 win-loss record; hermost recent title came at 2010 Cincinnati (w/Kirilenko)
- This is Kirilenko's 17th career doubles final; she has a 8-8 win-loss record; her most recent title came at 2010 San Diego (w/Zheng); she celebrated her 24th birthday on Tuesday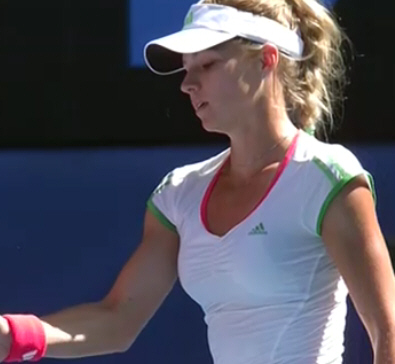 - Kirilenko is also through to mixed doubles SF w/Nenad Zimonic; they are the No.3 seeds
- In 2011 Australian Open singles draw, Azarenka reached the 4r (l. Li Na); Kirilenko fell in 2r (l. Benesova)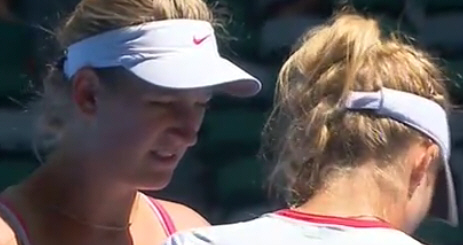 Maria and Victoria serving first and both teams are on serve until 2-1. Maria and Victoria got a break point but failed to convert. 2 all. Down 0-30 they come back and to win the game with the help of Maria first ace of the match for either team 3-2. Flavia and Gisela were down 15-40, manage to save 1 point but they get broken 4-2.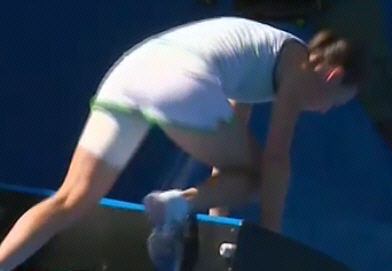 That was a long funny game, they go down to 15-40, they come back to deuce a smach from Maria was chase down so far by Flavia that she trips over a sign, she is ok she is actually smiles after this, finally on the game point Victoria prepares to serve then she realize she has no ball left in her pocket 5-2 . Maria and Victoria breaks to Love to win to first set 6-2 in 34 minutes.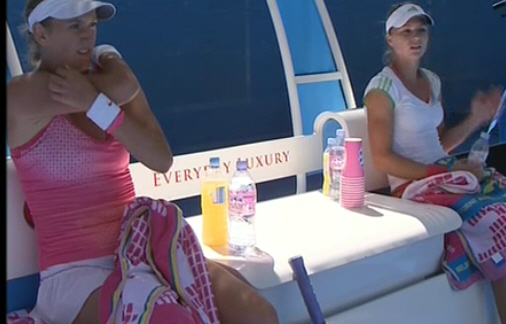 Maria and Victoria the better of the 2 teams so far witn 8/5 winners and only 2/2 errors with 1 ace by Maria.
Maria serving to start the second set, a great volley by Flavia allows them to get a break point and a long ball by Victoria gives the game to Flavia and Gisela. First time of the match they get broken 1-0. Long game but Maria and Victoria manage to break back right away 1all. Victoria serves her second ace to help them win the game 2-1. Maria and Victoria continue to beak and win game to give them a 4-1 lead. Flavia serves and holds to help her team 4-2.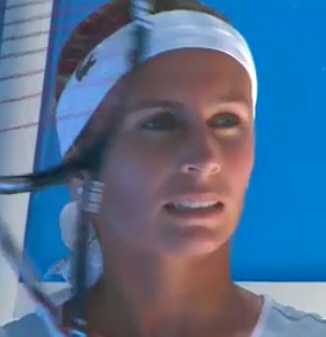 Victoria serving but Gisela 3 great shots gets the break for her team 4-3. A 24 strokes rally ends with a great shot from Maria that hit the net and falls in to get the point then a double fault from Gisela but 3 errors in a row from Victoris gives the game to them 4 all. Victoria so angry with her performance kicks something in the back and we hear a loud boom. Maria serving a great game they hold to Love.
Flavia serve to stay in the match and she holds 5 all. An other error from Victoria gives the game to them 6-5. After being down 4-1 fought back to actually win the second set 7-5 in 62 minutes.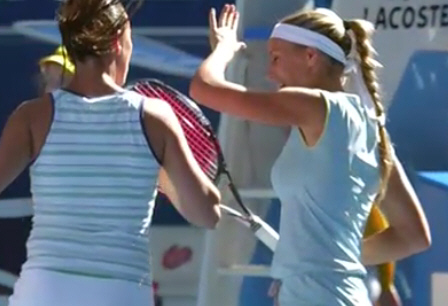 Maria serving and holds to 30 1-0 and from that point nothing went well, they go on and losses all the games. Flavia and Gisela wins the set 6-1 and the match.