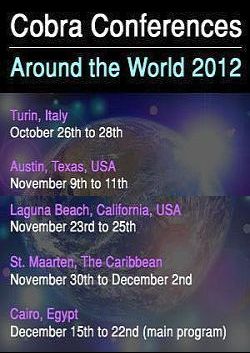 Cobra's Conferences around the world 2012 Update
By LadyDragon
MONTREAL--(LadyDragon.com)09/09/12--Latest news on Cobra's Conferences around the world 2012.
A Short Notice about the Charlotte Conference
Due to unforeseen circumstances, the 2012 Portal Conference in Charlotte has been cancelled.
The organizer has already refunded money to all registrants. We apologize for the inconvenience.
Registrants for Charlotte conference are more than welcome to sign up for the conferences in Austin or Laguna Beach.
The time slot from November 16th to 18th is now open for another conference on the East Coast, preferably in New York or Atlanta.
If anybody is guided to organize this, please contact me at cobraresistance@gmail.com until September 14th.
About Cobra
Cobra surfaced in March and since then has grown in popularity due to Cobra extensive knowledge about THE EVENT and the Aliens.
Cobra said, he is an incarnated Pleiadian and is part The Resistance