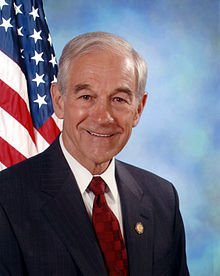 Ron Paul's bill H.R. 459 Audit the Fed passed the House
By LadyDragon
MONTREAL--(LadyDragon.com)25/07/12--The House of Representatives on Wednesday approved the bill H.R. 459 from the Republican Ron Paul from Texas 327-98.
The bill was suppose to vote on yesterday but was delayed until this afternoon.
At 2:51:20 P.M. -Considered as unfinished business. H.R. 459 — "To require a full audit of the Board of Governors of the Federal Reserve System and the Federal reserve banks by the Comptroller General of the United States before the end of 2012, and for other purposes."
2:59:03 P.M.- On motion to suspend the rules and pass the bill, as amended Agreed to by the Yeas and Nays: (2/3 required): 327 - 98 (Roll no. 513).
2:59:04 P.M.- Motion to reconsider laid on the table Agreed to without objection.
Click here to view the detail of the vote
This is great news for everyone except for people involve with the Fed.
"This bill would ... jeopardize the Fed's independence by subjecting its decisions on interest rates and monetary policy to GAO audit," said House Minority Whip Steny Hoyer, a Democrat from Maryland. "I agree with Chairman Bernanke that congressional review of the Fed's monetary policy decisions would be a 'nightmare scenario,' especially judging by the track record of this Congress when it comes to governing effectively."
"It's a mistake to eliminate the exemption for monetary policy and deliberations which would effectively, at least to some extent, create a political influence or a political dampening effect on the Federal Reserve's policy decisions," Bernanke told a House Financial Services Committee hearing last week.
"[Wall Street] will see it as political interference, not with the contracting procedures, not with the budget, not with how many cars they have, but with how they decide on interest rates. And the perception that the Congress is going to politicize the way in which interest rates are set will in itself have a destabilizing effect," Frank said.
Noghtmare Scenario for them, certainly not for any of us.
"The Fed should not be permitted to operate in the dark without oversight by Congress and accountability to the people. The American people deserve no less than a full and complete audit," said Rep. Dennis Kucinich, an Ohio Democrat, in a statement on Tuesday.
"Ron Paul's 'Audit The Fed' bill is a reminder of his tireless efforts to promote sound money and a more transparent Federal Reserve," Romney posted on Twitter.
Paul's book, was
In September 2009, Ron Paul published a book called End the Fed, and he continued his crusade against the federal bank into his second run for the Republican presidential nomination in 2012. (Paul first ran for president as the Libertarian Party candidate in 1988.)
This is a great win for Ron Paul the bill faces major obstacles in the sanate because Harry Reid, the Senate Majority Leader and Nevada Democrat, has vowed not to put it to a vote.