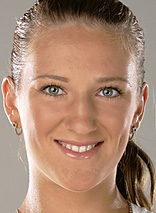 Victoria Azarenka wins the Final of the 2012 Australian Open over Maria Sharapova
By LadyDragon
MELBOURNE, Australia--(LadyDragon.com)28/01/12--Victoria victory moves her ranking to number 1 in the world.
Maria wins the toss and decides to receive.
2 double faults from Vic plus Maria gets 2 break points and a wide ball from Vic gives the game to Maria, 1-0. Maria is on fire so far holds to 15 with a winners,2-0. Vic playing better and holds to 30. Now Maria is off track loses her service game to Love, 2-1. Vic wins 3 games in a row and holds to 15 to take the lead, 3-2. An ace from Maria allows her to win the game, 3 all. A great lob over Maria wins her the game 30, 4-3. Maria started 40-15 but loses the game, 5-3. Vic serving for the set. Vic holds to 15 to win the first set in 46 minutes.
Too many errors from Maria, 15 -9 and Vic ran with the set.
Well now it is Vic who is on fire and break to 15, 1-0. Maria got a break points but again too many errors and a ball on the net gives the game to Vic, 2-0. Agian a wide ball from Maria and loses the to 15 to go down, 3-0. Again a ball in net and Vic wins the game to a commanding lead, 4-0. Maria in deep trouble now. Vic goes on to win the second set, 6-0 and the match in 86 minutes.
Since the first 2 games it has been only Victoria. Maria felt of her rock and try to end points to early therefore making too many errors.
14 winners for each but too many errors from Maria is the story of the match 30-12.
Martina Hingis gave the trophies to both.