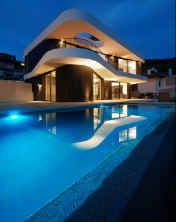 Peter Petrich, who invented the BIOTOP natural pool system where natural swimming pools are completely chemically free.
By LadyDragon
DENVER--(LadyDragon.com)18/11/15--11.09pm EST, LadyDragon wrote - Natural swimming pools are completely chemically free, requiring absolutely no chlorine. Natural swimming pools mimic a crystal clear mountain lake creating the ultimate swimming enjoyment. Peter Petrich, who invented the BIOTOP natural pool system in the early 1980's, is still the main innovator in the natural pool industry.
Natural Swimming Pools Benefit From a Growing Market, Creating New Opportunities for BIOTOP Partnership
In an interview with Peter Petrich, BIOTOP CEO and the Inventor of BIOTOP Pools, he discusses the market of natural swimming pools in the US and how his firm handles a quickly growing demand.
Question: Mr. Petrich, in the early 1980's your company BIOTOP was the first to commercialize natural swimming pools in the German speaking part of Europe. BIOTOP started to expand into the US and Canada roughly two years ago. How is it going?
A BIOTOP Infinity Living Pool
Petrich: The US has more pools per capita than any other country in the world. There are about 11 million pools in the US compared to the 8.5 million in Europe. And yet only a few hundred of the pools in the US are natural swimming pools compared to more than 100,000 installations in Europe. Today already almost every 5th new pool in Europe is a natural swimming pool. That says it all: The US market is ripe to dive into a new product, the natural swimming pool. We started getting more and more inquiries from US property owners who were attracted to a chlorine free, healthy and environmental alternative to the conventional pool. Because of the growing inquiries and the excellent outlook of the US market we decided to open an US based subsidiary.
Question: Is there an average profile of a US property owner who buys a BIOTOP pool?
Our customers come to us from a variety of locations, a variety of backgrounds for a variety of reasons. Geographically, the states with the most pools per capita have the most inquiries, Texas, Florida and California. There is also a strong showing in the NE area of the country. But please don't underestimate the Midwest. Our pools are bought by families that go for the fabulous design in combination with the over-compelling health aspect – zero chlorine, zero chemicals, and 100% naturally clean water. A BIOTOP pool, similar like a Tesla S, is cutting edge technology. We are a bit pricier, thus most of our property owners are in the +$300,000 disposable household income bracket. Very similar to the average houzz.com user. By the way, houzz is a great platform. We receive quite some traffic from houzz.com.
Question: In the German speaking countries, your original core market, BIOTOP has a vast network of partners installing pools. How does it work in the US?
Like in Europe, BIOTOP works with a network of professional installation partners throughout the US and Canada. These are our authorized vendors, as our US attorney calls them. Pool guys as most of them would call themselves! Our pool guys are a very committed, very knowledgeable group who know exactly what they have to do to create that unprecedented BIOTOP combo: Incredible design that matches the surroundings that our clients love so much. We pass on leads and support our natural pool guys with our experience from building more than 5,000 pools. And the BIOTOP natural pool guys have a strong foothold in mid and upscale residential markets that resonate so well with both of our products, the classic Natural Pool and the Living Pool. The Living Pool is our innovative product that gives you the look of a conventional pool – so no plants at all – but 100% mountain-lake-like natural water.
Question: Let me be a bit direct, Mr. Petrich. Do I need to be wealthy to own a BIOTOP Pool?
Certainly not. We talked about the 11 million pools installed in the US. With just a few thousand dollars, the BIOTOP converter kit can turn a chlorinated pool into a chemical free natural pool oasis. No need to be Mr. Trump for that one.
Question: You started to talk about the state of BIOTOP's US business but did not finish. So, how is it going?
We are doing great. Aqua Magazine, the industry's leading media published a front page article on us at the beginning of the year calling BIOTOP the future of pools. Dwell, the architecture and design bible, has a BIOTOP project coming up in early 2016. The market is rapidly growing and we receive a massive number of inquiries. We are onboarding new partners on the East coast but also in Mexico and Columbia. This is a call out to the leading boutique to medium sized pool builders in California, Texas and Florida: Come talk to us about the future of pools and how this can be an amazing addition to your business profile – we are looking for you!
Meet the BIOTOP US Team at GREENBUILD 2015 in Washington, DC, the premier event for sustainable building.
Nov 18-19, 2015 at the Morial Convention Center, booth 2411
BIOTOP Natural Pool Inc. - BIOTOP Landschaftsgestaltung GmbH – www.biotop.us
BIOTOP was the first company worldwide to introduce an ecological alternative to the conventional swimming pool – the natural swimming pool. Subsequently, the product evolved, received patents and numerous international awards.
BIOTOP has approximately 75 authorized vendors – including six US vendors, the most extensive vendor network of a natural pool company worldwide. Over 1,000 natural pools have been built by BIOTOP and more than 5,000 pools in cooperation with its partners. BIOTOP Natural Pools are built in the USA, in Europe, in Israel, New Zealand and Australia.
Market leadership is maintained through consistent R&D. The latest innovation is the Living Pool, a biological swimming pool that looks like a classic pool, but uses no chemicals. The Living Pool already accounts for roughly 40% of total sales. Thanks to the Converter System, conventional pools can also be converted to a Living Pool at minimum cost.
The headquarters are located in Klosterneuburg, Austria. BIOTOP's US subsidiary is domiciled in Denver, Colorado. Sustainability is an important aspect of the organizational culture, both on an economic and environmental level.
Please go the http://www.ladydragon.com for more news
For Breaking news please
LadyDragon Project --->LadyDragon's Eco-House Laboratory