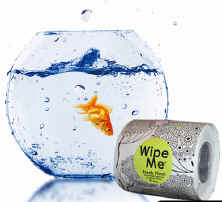 WipeMeWorld Launches Ingenious Moist Toilet Paper
By LadyDragon
Tsuen Wan New Town, Hong Kong--(LadyDragon.com)22/10/15--11.15pm EST, LadyDragon wrote - Hong Kong based world leader in the manufacture of tissue products, WipeMeWorld, has made its latest innovation, WipeMe, available to the consumer market. Inspired by existing flat packed moist tissues, WipeMe is an ingenious disposable personal hygiene product, and the first in a kind of moist toilet paper attractively packaged in a sealed wrapper. WipeMe is a patent protected on product and on the fully production line.
WipeMeWorld, a Hong Kong based world leader in the manufacture of tissue products, has launched its latest innovation, WipeMe, onto the consumer market. WipeMe is the first in a kind of moist toilet paper packaged in a sealed wrapper
Spokesperson for the company, Ronen Cojocaru, said: "The WipeMeWorld team identified the need for moist tissue on a rolling dispenser. When compared with existing regular toilet paper dispensers, WipeMe is more accessible, disposable and a step up in personal hygiene. Forward thinking and taking initiative are major factors in the success of our company. We work hard to identify future needs in order to offer timely solutions, and ensure we remain relevant in a remarkably competitive industry."
He further added, "WipeMe can be used to super cleanse any area of the body, refresh your face, or in the place of regular toilet paper. Our signature technology provides an enhanced personal hygiene solution, particularly after one has been to the toilet. The alcohol content also acts as a disinfectant against viruses and bacteria. The WipeMe product range can be used by any age group, from small babies to adults. Those produced are alcohol-free to avoid irritation to sensitive skin. For additional information I invite all readers to view the video on our website which highlight WipeMe features and technology, here is the video link"
The company's range has been carefully developed to ensure product and consumer safety, and the added detergents and preservatives used are certified biodegradable in keeping with international regulations. WipeMe is fully protected by patents on the product and production line with most advances production facilities worldwide.
About WipeMeWorld
WipeMeWorld, a Hong Kong based company, is a global leader in wet wipes tissues innovation. The company's product portfolio includes moist (wet wipe) toilet paper, kitchen rolls and napkins. Its products are sold both under its own label and under top retailers' brand names, and cater to households, hospitals, workplaces, restaurants and hotels, among other consumers. WipeMeWorld develops and markets complete hygiene solutions comprising dispensers, tissue products, service and maintenance.
Please go the http://www.ladydragon.com for more news
For Breaking news please
LadyDragon Project --->LadyDragon's Eco-House Laboratory