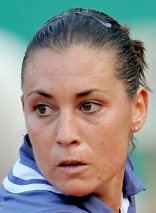 Interview with Flavia Pennetta after her win over Aleksandra Wozniak at the 2009 US Open
Flavia won 6-1, 6-1
Q. You are playing extremely well right now.
FLAVIA PENNETTA: Yeah, I think I play very good match today, also. I'm really happy, you know. Still my serve doesn't work in the way I would like to, but I'm really happy.
Q. Could you talk about your tournament run so far? I mean, all three matches, doing great.
FLAVIA PENNETTA: I think it's the court. Maybe because I like that court. I don't know, really.
I just was focused on my game. I was talking with my coach before the match, and they told me to be very aggressive, to just focus, run in the way I always run. Everything's going perfect.
Q. Is this your favorite surface, or...
FLAVIA PENNETTA: Not really. I prefer I like a lot clay court. But, anyway, here I still playing maybe my best tennis.
Q. What's caused the resurgence of your game? I mean, it's just absolutely, you know, all of a sudden you're doing great. Where is this coming from?
FLAVIA PENNETTA: I don't know. You have to ask my coach.
No, I just joke. I think I just starting to win more and more matches. I starting to more confidence and everything's come, you know.
Tennis, it's very strange sport, because for one point everything can change. You have to be very mentally very focused in all the moments.
Q. What's your feeling about the draw itself? I mean, you're kind of going under the radar. Everyone is talking about the Serenas and Venuses, and you're just sliding through doing great. Are you happy with that somewhat out of the spotlight atmosphere?
FLAVIA PENNETTA: No, I think it's great, you know. Everything, it's normal. So it's no problem at all.
Q. How about your next match?
FLAVIA PENNETTA: I don't know against who I going to play because they have to play, so...
Anyway, I think it's going to be very tough. They are both very good player. In this kind of court they play very good, so it's gonna be tough match. I have to play my best tennis.
Q. When you played today, what was your thought going in? I mean, you said stay aggressive. You never let her in it.
FLAVIA PENNETTA: Just to be very aggressive from the beginning, and just to you know, when you play with this kind of player, you have to be very focused from the beginning.
Because if you if they see you very strong, they starting to try different things and they lost the game, you know, completely. They starting to make a lot of mistakes.
So I just was very focused in the beginning, just see I'm there from the first point, and it was working pretty good.
Other News on Flavia
Flavia Pennetta wins her match against Vera Zvonareva at the 2009 US Open