LadyDragon is on Facebook plus for the latest breaking news please
LadyDragon Eco-Houses - LadyDragon Radio Show - News - Videos - CES 2013 - Free Live Sports Streaming - Astronomy Picture of the Day
CES 2009
magicJack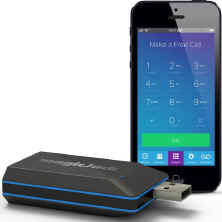 LadyDragon Article ---> magicJack Launches magicJackGO for cell phone to extends Home or Office Number to Any iOS or Android Phone
magicJack™ Explodes Out of Beta with Skyrocketing Sales
Make and Receive Local and Long Distance calls from around the World and Save Thousands
Las Vegas, Nevada – 2008 International CES – After three years of development, personal investment and beta testing, telecommunications veteran and founder of YMax Corp. Daniel Borislow introduces the 1.0 version of his prized invention, the magicJack™. You simply plug the magicJack into your computer's USB connection and then plug in any corded, cordless or portable phone. It is up and running in seconds, ready to make and receive free local and long distance calls to anyone in the US and Canada from anywhere in the world. For only $39.95, customers get the magicJack, their own phone number for life, free local and long distance calling on the company's new nationwide network and a host of valuable features for an entire year. Additional years are just $19.95 per year. This can amount to savings of more than $1,000.00 a year. Since its beta launch in September, magicJack sales have steadily increased by 25% a week.
Borislow has over 20 years experience in the telecommunications industry including past success with AOL Long Distance where he revolutionized low-cost long distance calling for over four million customers. His company, Talk.com, won the coveted J.D. Power and Associates Award for Customer Satisfaction in its first year of operation. "This time around I have achieved my customers' desire to completely eliminate monthly telephone bills forever," said Borislow who has coined this era 'Telecom Revolution Part II.' "YMax Corp. is a phone company with real network assets and the easy-to-use magicJack serves as the on-ramp to that highway. Because of this, we offer the highest quality voice at the lowest cost. All of these ingredients – the magicJack, our software and network, patents and our talented personnel - will help us reach our ultimate goal of selling millions of magicJacks and expanding our products and services."
The magicJack™
All you do is plug the magicJack into any computer – PC or Mac - and in seconds you hear a dial tone. The magicJack turns the computer into the communications hub for individuals, families and small businesses by extending the benefits of the Internet out to your existing phone. magicJack customers are already paying high prices for their broadband connections and now they can leverage that to get nearly free telephone service. The size of a matchbox, the magicJack can travel with you and save what could be hundreds of dollars a day. All of the following features come standard with the device:
- Call waiting

- 911 service

- Directory assistance

- Conference calling

- Voice mail

- Address book

- Outlook integration

- FollowMe - a feature that forwards calls to mobile and other phone numbers when the user is offline
"The secret sauce is our proprietary system-on-a-chip and our millions of lines of software code. It's little, but it surely packs a punch," added Borislow. "magicJack is not only for the home, second home, and small business, it is also perfect for wherever you travel, including Europe, Canada, Mexico, Asia, South America – anywhere. Users can call anyone in the United States and Canada from any country or to any other magicJack user in the world and the call is free." Also, parents can use magicJack as an inexpensive way to give their kids their own phone number and prevent them from racking up mobile and long distance minutes. The magicjack is certified with the Federal Communications Commission and has five patents pending and one approved.
YMax Voice Network: Newer and Bigger is Better
magicJack is the only device of its kind backed by its own network. With 42 gateway switches in major metropolitan U.S. cities and interconnection agreements across the country, YMax Voice is one of the newest and largest U.S. phone networks and can therefore offer the highest quality voice service at the lowest cost in the industry. The YMax Voice network is one of the only competitive local exchange carrier (CLEC) networks in the U.S. certified in all 50 states. "As proud as I am of my invention the magicJack, it takes a backseat to the network we built and all the interconnections set up. The network is what took three years to accomplish. It is something no other company has ever done before and it would be very difficult to replicate. This is the core of YMax," Borislow said.
"Consumers want the same high quality voice experience they have come to expect from using their traditional home or business phones, but with much lower cost and added mobility," said Patrick Monaghan, a senior analyst with Yankee Group's consumer research group. "A USB telephony device backed by a real phone network takes a much needed approach to bringing the end-user a level of service they expect."
About YMax Corp.
YMax Corp. is a modern phone company with one of the largest newly deployed CLEC networks in the United States. Led by telecommunications veteran Daniel Borislow, YMax provides high quality, low-cost phone calls via the innovative magicJack USB device and YMax Voice network that puts an end to monthly phone bills. magicJack LP is a wholly owned subsidiary of YMax Corp. YMax also owns SJ Labs, the world leader in VoIP software, and offers its customized softphone solution with all magicJacks. YMax is a private company based in Palm Beach, Florida. Additional information about YMax can be found at www.ymaxcorp.com. To purchase or read more about the magicJack, go to www.magicjack.com
-------------------------------------------------------------------------------------------------------------
At One Year Anniversary, magicJack Inventor Dan Borislow Addresses Industry
Right device for the times, over 2 million sold in 2008, average to best in customer care, RadioShack and Best Buy roll outs, will save customers over $1 billion in 2009
Palm Beach, FL –December 31, 2008 – Right out of the package, the plug-and-play magicJack enables you to make calls within seconds, supplying the highest-quality free long distance and local calling , your own phone number, free directory assistance and many other features - all for $19.95 a year. It's as easy as 1, 2, 3 and only takes seconds to get started.
* Plug any phone you have into the magicJack (cordless, DECT, corded, portable).
* Plug the magicJack into your USB port on your computer.
* Make and receive calls like you always have. You can use it as your primary phone or a second line.
To mark the first anniversary of the revolutionary device, magicJack inventor Dan Borislow addresses the industry with the following letter.
"This has been an incredible year for magicJack and very much reminds me of my last company I started, as both companies have the distinction of starting out in a recession. Talk.com was formed in 1990 and went on to sell four million AOL customers long distance service. This is not a coincidence. The mother of all great inventions is necessity. People today are looking to save as much money as possible, as fast as possible. Like every typical American, when the times get tough, it is time to work harder, think with creativity, and adapt to your surroundings. I know that the hard work and great risk that went into building this company and developing the most cost-saving device ever built will be able to help almost anybody who uses a phone. We can save our millions of customers over $1 billion dollars in 2009.
Like I promised, we've gone from average to the very best in customer care.
Also like Talk.com, I want great customer service to be the cornerstone of the company. Talk.com ranked near the top in JD Power and Associates Awards including customer care. It appears we are well on our way to receiving that honor with magicJack. This has been some process over the last year as we were convinced from the start that tech chat was the only way to go. Chat automatically provides the critical information (operating system, browser, internet status) that we need to help our customers fast. JD Power surveys have also recently indicated people are more satisfied with chat than voice help. It is difficult to do something no one has ever done before, but of course that is where the opportunity lies.
Here is a brief history of how we came to offer the best customer care in the industry within 12 short months:
* At the end of every tech chat, we have our customers grade the support representative 1 , 2, 3, 4 or 5 (1 is poor 5 is excellent).
* When we started out, we received a disappointing 1 to 3 average customer care rating (1 poor grade for every 3 excellent grades). We had newly trained reps, a less than reliable network, some buggy software and some other minor issues. I spent too much of my own money and time to continue to perform so poorly.
* Given time, all these things were fixed (over 700 bug fixes installed and added redundancy in the network meant 100 percent availability over the last six months - not down for even a second nationally), the support reps became more educated and the bottom-ranked agents were flushed out every month using our customer grading system. This has dramatically improved our grades from our customers.
* We learned another trick too that no one else does - we now offer customers access to a "super rep" to escalate a service question and any customer who has graded us poorly on customer care before automatically goes to a super agent when they log in. A "super rep" is one who consistently gets the highest ratings from our customers.
* Another issue causing customer complaints was in how to treat debit cards with our 30 day trial. This has also been resolved. At the time of the order, it is standard for a hold to be placed on the debit card which, while no one was charged, appeared to have the same effect as an actual charge. My choice was to either refuse debit cards like many businesses have done or to modify the program and alert people. We know people need to save money, so we modified the program and fixed the issue.
* Today, we receive an average 1 to 20 rating from our customers (1 poor for every 20 excellent ratings). There is not another company remotely close to this superb performance and our people in charge of customer care should be very proud.
Our YMax Voice Network supported magicJack in selling over 2 million devices in 2008.
Our parent company YMAX built and designed the lowest cost network in the industry, and this same design is also responsible for the highest quality voice in the business. It is no wonder that in using this network, magicJack appears to have become the fastest growing phone service provider ever in the United Stateswith over 2 million sold in its first year of introduction. magicJack is also popular across the world and has been used in over 50 countries. How do we do it?
* We use more switches/gateways(50 plus) than any other telecom company and locate them where our customers actually live.
* We are the only telephone company certified in all 50 states.
* We have the largest breadth of area codes in the country. A full list is available at http://www.magicjack.com/9/areacodes.asp.
* We have more session border controllers for security than any other company.
* We have an overabundance of capacity as we now add over 250,000 customers a month.
Like our network, we own all of our important assets and have made several acquisitions totaling $30 million.
We knew the great risk we took in building this company and acquiring these assets would only pay off if we were able to reach a massive size. Fortunately, we sold 2 million customers and reached this desired scale in 2008. Incremental growth is very inexpensive now and we will be rewarded financially in 2009 with profitability.
magicJack's parent company not only has this incredible telephone network, but also owns our own chip company (TigerJet, acquired in 2008), our own software company (SJ Labs, acquired in 2007) that has created over 1.7 million lines of plug-and-play code for the magicJack and lastly, we just purchased strategic assets that are the glue of the network and provide great features for our customers.We have filed six patents and hold one patent. These patents outline exciting technology that we will demonstrate the importance of in 2009. Through this new technology, we are leading in Femtocell technology for TV set-top boxes, PCs and any other box with a CPU and memory .
The last subject for this first year review is how and where we are selling magicJacks. The first large retailer to sell magicJacks is Radio Shack. How well have they done? They have done so well that they keep adjusting their inventory numbers up to handle higher than expected demand. Best Buy will have magicJacks in all their stores by next week, and in their tests have also run out of magicJacks quite frequently. Without mentioning any more names, we will be in other top retailers starting this month with more to follow later in Q1. Military base stores will also have them available, where the savings can be in the thousands of dollars a year because of the large long distance and mobile phone bills that can be offset. Presently, the only place to get a 30 day free trial is at magicJack.com. The magicJack and one year of free service is still just $39.95 and subsequent years are just $19.95 a year. This includes getting your own phone number, free directory assistance and free local and long distance. The 2 million customers also have the ability to click to call free directory assistance and many other important destinations with the always-on portal.
I hope that everybody has a fruitful 2009, as we did in 2008. I also hope that magicJack is one of the reasons why 2009 will be a better year for everyone."
Sincerely,
Dan Borislow
Inventor, magicJack
Founder, YMax Corp.
About YMax Corp. and magicJack LP
YMax Corp. is a modern phone company with one of the largest newly deployed CLEC networks in the United States. Led by telecommunications veteran Daniel Borislow, YMax provides high quality, low-cost phone calls via the innovative magicJack USB device and YMax Voice network that puts an end to monthly phone bills. magicJack LP is a wholly owned subsidiary of YMax Corp. YMax also owns SJ Labs, the world leader in VoIP software, and offers its customized softphone solution with all magicJacks. YMax is a private company based in Palm Beach, Florida. Additional information about YMax can be found at www.ymaxcorp.com To purchase or read more about the magicJack, go to www.magicjack.com
Please go the http://www.ladydragon.com for more news
For Breaking news please
Click here to listen to LadyDragon Radio Shows