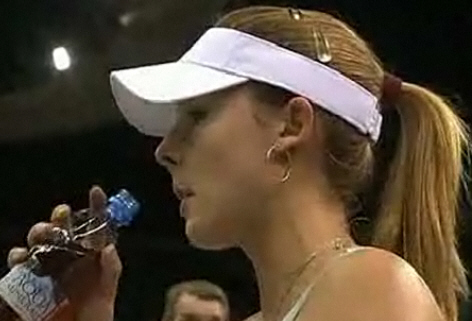 France over Russia at the Fed Cup 2011
By LadyDragon
MOSCOW, Russia--(LadyDragon.com)05/02/11-- Alize Cornet from France wins over Svetlana Kuznetsova from Russia at the Olympic Stadium in Moscow, Russia to give the first win to France in the Fed Cup 2011.
Kuz serving first and wins the first 3 games 3-0. Alize wins her first game of the match 3-1. A nice forehand winner gives the game to Kuz 4-1. A long hard fought game from Alize, she goes down 0-40 then serves her first ace of the match to encourage her to fight back and does hold in order to get 1 break back 4-2. They both hold 5-3. Now Kuz will serve for the set. After 3 set points Kuz finally wins the first set 6-3 in 45 minutes.
Svetlana too strong for Alize.
Kuz leading 2-1 and now serving losses her serve and we are back on serve 2 all. Again a long hard fought game from Alize and she holds 3-2. A quick game from Kuz, who holds to 15 3 all. Alize keeps fighting to the delight of the crowd to lead 4-3. Crowd even more animated now with Alize's break who will now serve for the set 5-3. Alize holds to win the second set 6-3 in 44 minutes.
Too many errors from Svetlana 16/8.
A wild ball from Kuz to give the first game to Alize 1-0. Now it is the Russian crowd happy that Kuz breaks right back 1 all. Alize keeps fight and breaks again to retain the lead 2-1. Very unfortunate event here at deuce Alize seams to injured her right ankle and after a long medical time out alize come back to play. Alize gets a game point but fail to hold 2 all. After a long game where both are complaining, Alize breaks right back for a 3-2 lead. Breaks keep happening 3 all. Finally the first hold of the third goes to Kuz to take an important 4-3 lead. Well Alize did not let her foot bother her at all she fought back and won the next 3 games to win the third set 6-4 and the match in 2 hours and 31 minutes.
Svetlana was the favorite coming in but Alize surprised everyone with her hard work.
Maria Sharapova and Virginie Razzano will play next.