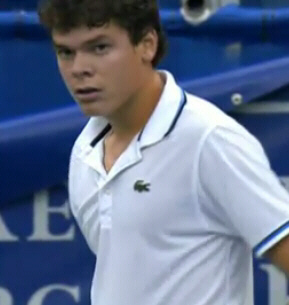 Milos Raonic wins over Robert Kendrick
By LadyDragon
MEMPHIS, United States--(LadyDragon.com)18/02/11--Milos continues to win. Today it was against Robert Kendrick where Milos won in 3 sets at the for an other week where he reaches the semi final.
Milos Raonic losses to Andy Roddick
Milos Raonic wins over Mardy Fish
Robert Kendrick
Robert Kendrick 31, is appearing in his first ATP World Tour quarter-final since Newport in July 2006...This week qualified into the main draw and posted wins over No. 8 seed Kevin Anderson 57 63 76(4), saving 16 of 18 break points, and James Blake 76(5) 63 in the second round…Prior to this week, was 0-4 here ? He comes in with a 4-2 mark on the season, reaching the second round in Chennai (l. to Kavcic) and San Jose (l. to Monfils) last week
- He is trying to reach his third career ATP World Tour semi-final, the first since San Jose (l. to Roddick)...Also a SF in Delray Beach in 2003 (l. to Gambill)
- He is the lowest-ranked player remaining at No. 110 and will jump to around No. 84 after this week
- Began collegiate career at University of Washington in 1998 and earned All-American honors in singles and doubles as sophomore in 1999 with a 31-9 record. Ranked as high as No. 3 in collegiate rankings during year
- Transferred to Pepperdine University for junior year where he again earned All-American honors with an 18-10 record
Milos Raonic
? Raonic, 20, who is appearing in his ninth career ATP World Tour level tournament, is appearing in his third ATP World Tour quarter-fiinal (or better)…In his debut this week, has posted back-to-back third set tie-break wins over No. 2 seed Fernando Verdasco and '09 finalist Radek Stepanek…He hit a careerhigh and tournament record (since 1991) 38 aces on Thursday
- The Thornhill, Ontario resident has made the biggest jump from last year's year-end South African Airways ATP Rankings, improving from No. 156 to No. 59…He will move to around No. 53 thus far and will break Top 50 if he reaches the semi-finals (around No. 44)
- Last week in San Jose the top Canadian captured his first career ATP World Tour title over Verdasco in two tie-breaks…He was broken once during the week and led the tournament with 58 aces
- He became the first Canadian to win an ATP World Tour title since Greg Rusedski captured the title in Seoul in April 1995 (he also won in Newport in July 1993)
- At last month's Australian Open, he qualified and posted wins over Bjorn Phau, No. 24 Michael Llodra and No. 10 Mikhail Youzhny before losing to No. 7 David Ferrer in four sets
- At this time one year ago he was ranked No. 361 and lost in the first round of qualifying at the Belgrade Challenger
At 3 all, Milos wins the pivital 7 game to win the first set first set 6-4.
Milos had 10 aces and did not give any break point to Robert.
At 2-1 Robert breaks to go on and win the second set 6-3
Milos had only 4 aces and did not see any break point from Robert
In the third set, Milos gets back on track and takes a 3-0 lead and goes on to win the third set 6-3 and the match in 1 53 minutes
Milos finishes the match with 20 aces and he is now in the semi final.