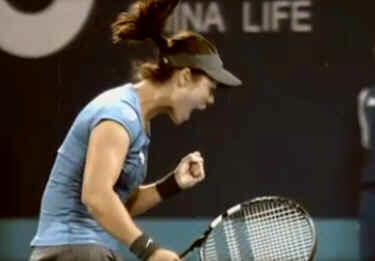 Na Li wins over wins Peng Shuai at the 2012 China Open
By LadyDragon
MONTREAL--(LadyDragon.com)04/10/12--Li wins an epic match over Peng in a long ugly 3 sets match over Peng in 2 hours and 28 minutes
This was a great treat for the Chinese tennis fans their 2 top players playing against each other in China.
You can tell that Li was nervous from the start.
Li lost the first set.
Well that is usually not a worry becasue Li is well known for loosing the first set then winning the match and that is exactly what she did today.
Li comes back and wins the second set
Now the third set was a mess to start with goes down and one would of think and out at 3-5.
But Li the fighter that she is breaks Peng serve and holds to bring it to 5 all.
Then we go to a Tie Break where Li finally start on the right foot takes the first point of the TB.
That point seams to have helped her immencely because she now goes up 5-2 in the TB.
Peng hits a ball too long then it is 6-2.
Now Li is serving for the match.
Li is focus and serves well then the return from Peng is too long, Li finally wins this match to the delight of her home crowd.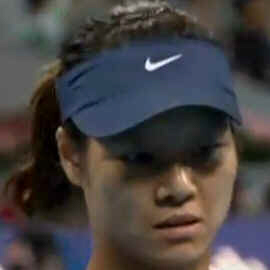 It was a long druling match for Li, 2 hours and 28 minutes.
It was all about Li from the beginning when she played well everything was fine but when she was not Peng took the lead.
Look at the stats it tell its all.
Li made 16 Double Faults on here serve with 5 aces.
Peng did 5 Double Faults on here serve with 3 aces.
42 Winners and 57 Errors from Li.
18 Winners and 25 Errors from Peng.
Li will face Agnieszka RADWANSKA in here next match