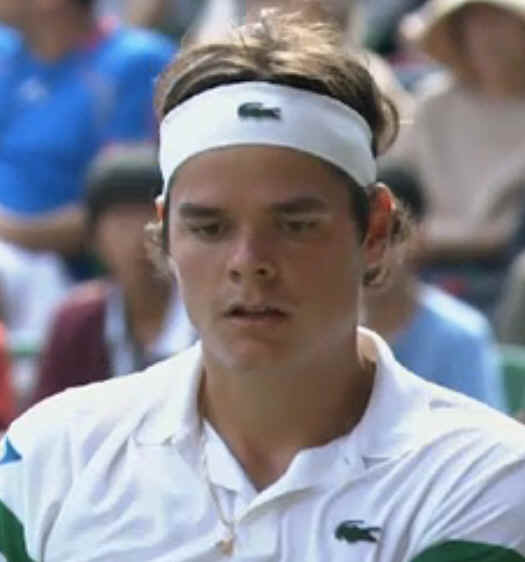 Milos Raonic wins over Andy Murray at the 2012 Rakuten Japan Open
By LadyDragon
MONTREAL--(LadyDragon.com)06/10/12--Milos wins an other long 3 sets match 6-3, 6-7, 7-6 in 2 hours and 46 minutes
Andy serving first.
Milos starts on fire and breaks to Love, 1-0. Milos holds to 15 with 2 aces to take a 2-0 lead. Down a break point again, Andy makes a nice drop shot to save the break and goes on to hold 2-1. Milos holds to 30, 3-1. an other drop shot from Andy allows him to hold easely to Love, 3-2. Milos starts with his third aces but goes down a break point but manage to hold to keep his lead, 4-2. Andy holds to 15, 4-3. 30 minutes of play already and now Milos will serve with new balls. better game from Milos holds to Love and starts and finish with his fourth and fifth aces., 5-3. Well Andy serve his first ace of the match but fails to hold and give the first set to Milos.
Obviously Milos has learn from his lost to Andy at the US Open this year and came out prepare.
Milos wins the first set 6-3 in 37 minutes.
Milos serving first and goes down to 30 but recovers easely, 1-0. Andy saves 2 break points and his second ace gives him the game, 1 all. Milos holds to 30, 2-1. Andy holds to 30. 2 all. Milos double fault then goes down to 30 but again comes back to hold then Andy breaks his racquet, 3-2. Again Andy in trouble but manage to save the break point with an ace, 3 all. Milos holds to 30, 4-3. Andy holds to 15, 4 all. Milos holds to 30, 5-4. Now Andy will serve to stay in the match. Andy holds to 15, 5 all. They both hold to 15 to bring us to a Tie Break.
Ace for Milos1-0. 1 all. 2-1 Andy. 2 all. #-2 Milos. 3 all. Ace from Andy 4-3. 4 all. 5-4 Milos. 5 all. 6-5 Andy has aset point now. Andy breaks and wins the second set. 7-6.
Andy serving first and holds to Love, 1-0. Milos does the same 1 all. Andy holds to 15, 2-1. Andy breaks then Milos breaks to bring us to an other Tie Break. This time Milos is sharper and wins the match.
Andy was never in control of the match only was able to take a little lead in the rid but not for long.
Milos came out fighting from the start and stayed focus at the end to win the TB.
Milos will face Kei Nshikori in the Final.