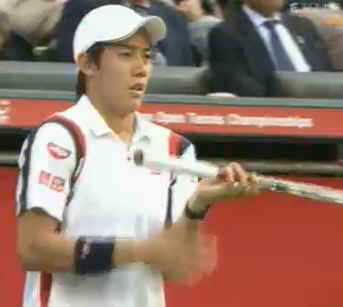 Kei Nshikori wins over Milos Raonic at the 2012 Rakuten Japan Open
By LadyDragon
MONTREAL--(LadyDragon.com)07/10/12--Kei wins the Championship in front of his homecrowd Milos wins an other long 3 sets match 7-6, 6-3, 6-0 in 2 hours and 08 minutes
40 Year this Tournament has waited to cheer for one of their own so it is a pack house today for Kei.
Kei serving first.
Good start from Kei, 1-0. Milos starts with an ace and wows the crowd gets a quick 40-0 but Kei brings it to deuce 3 times and it turns out to be a long game then Kei gets a break point and a ball in the net give the game to Kei, 2-0. Milos having big problem serving only gets 33% of his first serve in and only 2 points won on 8 with his second serve. Kei holds to 15 and takes a 3-0 lead. Trainer comes out to see Kei, unsure why. Much better from Milos in this game does 2 aces and holds to 15. Kei goes down 15-40 then a ball in the net give the game to Milos to get back on serve, 3-2 after 22 minutes of play. Milos serves his fourth aces of the match in this game and hold to 30. Kei hold to 30, 4-3. Milos brings it to 4 all. 5 all. Milos almost loose his serve but saves 2 break points to bring us to a Tie Break.
Milos get the break, 1-0. 2-0, 3-0, 3-1, 3-2, 3-3, 4-3 Milos, 4 all, 5-4 Kei, Kei gets 2 set points, 6-4, 6-5, a wide ball from Milos gives the set to Kei.
Milos not serving well today and Kei is a bit too fast for him at times.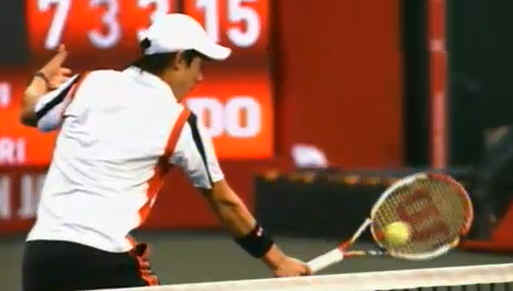 Long set 59 minutes.
Milos serving first. 3 aces in his first game, 1-0. Kei saves 2 break points, 1 all. Milos holds to 30, 2-1. Kei holds to 15, 2 all, Despite serving his 11th ace Milos still making lots of errors and an other long game but he manage to hold, 3-2. Kei holds to 15, 3 all. Milos serving well in this game, 4-3. 1 hour and 30 minutes of play. Milos breaks and quiets the crowd and now serving for the set. Milos goes down 30-40 after his second double fault but ace#13 brings it to deuce and he finally holds to take the second set 6-3 in 38 minutes.
Milos serving much better in the second set but still many balls in the net though.
Kei holds to 30, 1-0, Key break and hold to take a 3-0 lead to the delight of his home crowd. Kei breaks again to take a commanding lead of 4-0. 5-0. Milos serving and after 3 Championship points, Kei takes the match.
Kei was the sharper one today from the start, he was focus went after the second serve of Milos which was awful only 38% points one on it.
Kei is the first Japenese men to win this Tournament.