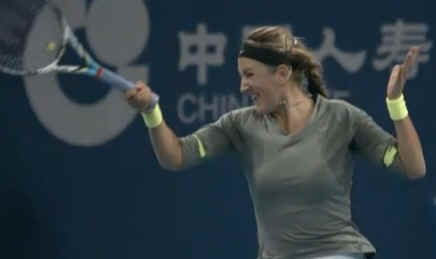 Victoria Azarenka wins over Maria Sharapova in the Final of the 2012 China Open
By LadyDragon
MONTREAL--(LadyDragon.com)08/10/12--Victoria wins the 2012 China Open for the first time 6-3, 6-0 over Maria.
Maria serving first.
A double fault brings her down 2 break points manage to save one but a long ball gives the game to Victoria, 1-0. Victoria holds to 30 , 2-0. well things are not going well for Maria so far. Maria in here makes 2 double fault and looses the game, 3-0. Maria manage to hold 2 game and breaks Victoria serve while she was serving for the set, 5-3. Maria manage to save a few set point but on an easy ball at the missed her shot and give the first set to Victoria. 6-3.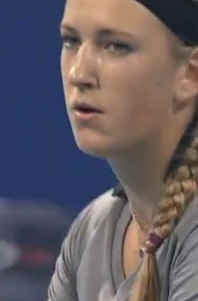 Well the second set is all Victoria she takes a commanding lead of 5-0. Finally Maria wins her first game of the second sets, 5-1. Victoria serving for the Championship. Very long game over 8 minutes. Maria get 3 break point but fail to break and after getting 2 match points Victoria takes the second set 6-1.
Victoria is the first women to win 2 Premier Championship event in the same year.
Unfortunatly Maria was not at her best today and Victoria once again beats Maria in a Final this year.
With this win, Victoria brings her record against Maris to 7-4.