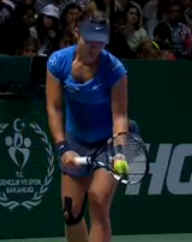 Serena Williams wins over Na LI at the 2012 TEB BNP Paribas WTA Championship
MONTREAL--(LadyDragon.com)24/10/12-- Li looses the the match in 2 sets 7-6 and 6-3 in 1 hour and 50 minutes.
Before we start, Petra Kvitova retired so Samantha Stosur will replace her tomorrow.
This is the first match of the day.
Serena delaying the match for unknown reason.
Li serving first.
Close game but Li looses the game, 1-0.
Good game from Li and breaks, 1 all.
Great serving game from Li, holds to Love, 2-1.
Li takes a 15-40 lead, let it go to deuce but breaks, 3-1
Again an unprofessional behavior from Serena, she breaks her racket.
She gets a warning deservedly so.
An other good service game from li and takes a 4-1 lead.
Serena holds to 15, 4-2.
Li hits 2 long balls and gives the game away, 4-3.
Back on serve.
A ball in the net give the game away again, 4 all.
Too many errors lately from Li.
Li does her first double fault and looses her 5 games in row, 5-4
Li must break in order to stay in the set, blew a 4-1 lead.
Much better from Li she breaks to Love, 5 all.
An other long ball gives the game away, 6-5.
7 breaks in the first set so far.
Li needs to break again in order to stay in the set.
Impressive, Li breaks for the second time in a row to Love to remain in the set and bring us to a Tie Break. 6 all.
1-0 Li. 1 all. 2-1 Serena, 3-1, 4-1, 5-1, 5-2, 6-2,
Serena wins the TB 7-2
Li looses the first set 6-7 in 55 minutes.
Errors is the story of the match so far way too many for both of them.
16 errors compared to 6 winners for Li and Serena had 22 errors ans 7 winner.
Again a ball in the net gives the game away, 1-0.
An other error, and looses the game, 2-0.
Better from Li she breaks to 15. 2-1.
We are back on serve.
10 breaks of serve so far in the match.
A double fault give the game away, 3-1.
Very long game, 4-1
Li holds 4-2. 5-2 now Li serving to stay in the match.
Li holds tkx to the ball falling dead after it caught the net on Serena's side.
Serena wins the set 6-3.
Very boring and awful long match.
Serena leaves the court like always in an unclassy manner not allowing Li to shake the empire's hand.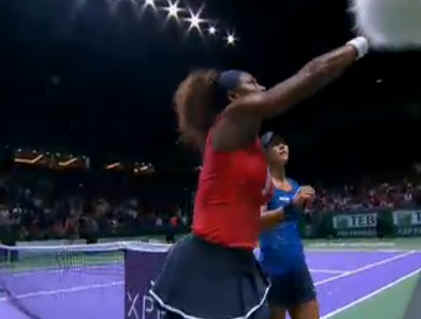 About TEB BNP Paribas WTA Championships in Istanbul
TEB BNP Paribas WTA Championships, which will be staged at the Sinan Erdem Arena in Istanbul, Turkey.
This final qualification rounds out an exceptional player field for the WTA's year-end finale, to be held from October 23-28 and featuring the world's top eight singles players and top four doubles teams, competing for the coveted title and a share of $4.9 million in prize money.