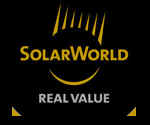 From Modules to Components, SolarWorld Showcases Advances in Every Facet of Solar Solutions at Intersolar
Intersolar North America 2014
By LadyDragon
MONTREAL--(LadyDragon.com)12/07/14--12.51pm EST, LadyDragon wrote - SolarWorld will present an across-the-board lineup of technological advances affecting all key products of solar-system solutions during the solar-industry trade show Intersolar North America in San Francisco this week.
SolarWorld's wide-ranging offerings respond to diversifying needs of customers
HILLSBORO, Ore.--Advances range from the company's Sunmodule XL – a high-power 72-cell mono-crystalline solar panel – to innovations in 60-cell panels, mounting systems and inverters. SolarWorld solar panels and systems are also among the first to meet stricter new fire-safety requirements. The expanded product portfolio and certifications highlight SolarWorld's resolve to meet the rising diversity and evolving needs of customers in North America, where SolarWorld has been the largest crystalline silicon solar manufacturer for nearly 40 years.
"SolarWorld is ramping up its product offerings in step with the tremendous and fast-growing variety of our customer base," said Ardes Johnson, U.S. vice president of sales and marketing for SolarWorld. "The product and technology advances we are presenting this year at Intersolar reflect our resolve to hone our solar solutions to maximize customers' businesses."
Available at commercial volume only since spring, the 72-cell Sunmodule XL already is shipping in volumes of dozens of megawatts to U.S. commercial and utility-scale buyers. The product, offered at up to 315 watts, is among the highest-performing 72-cell solar panels available. The Sunmodule XL will be on display at SolarWorld's booth (No. 7521).
Along with SolarWorld's entire line of 60-cell mono- and poly-crystalline solar panels, the Sunmodule XL is among the first solar panels to have undergone complete spread-of-flame fire performance testing and been classified according to the updated Standard UL (Underwriters Laboratory) 1703. In light of the characteristics of their materials and construction, SolarWorld's Sunmodule Plus, Sunmodule Pro and Sunmodule XL solar panels are classified as Type 1. SolarWorld's Sunmodule Protect glass-glass solar panels are classified as Type 3.
The result of the testing regimen: When combined with Class A mounting systems – such as SolarWorld's Sunfix Plus racking product – SolarWorld solar panels achieve a photovoltaic fire system rating of Class A, a fire-code requirement that went into effect June 1 in parts of California.
In addition to producing solar panels and racking, SolarWorld partners with other best-in-class manufacturers to distribute other solar products that measure up to the company's exacting quality and durability standards. This year, SolarWorld's booth will feature inverters from partners SMA and Enphase. SolarWorld – Enphase's first and only global module partner – distributes Enphase's M215 and M250, the industry's leading microinverters. The company also sells SMA's new Sunny Boy TL product line, the first inverters available in North America that can continue delivering power from solar systems to homes or businesses during daytime power outages. Both SMA and Enphase inverters figure prominently in SolarWorld System Solutions, the company's complete pre-engineered and custom-engineered solar systems.
SolarWorld also has teamed with U.S. racking-system manufacturer PanelClaw to distribute a ballasted mounting solution for low-slope commercial roofs. New this year, SolarWorld will sell PanelClaw's Polar Bear III flat-roof system. The Polar Bear III offers a higher loading capacity and longer warranty than the industry standard at a lower price and with lower shipping costs, thanks to locally sourced ballast material, higher packing density and warehouses on both coasts. Polar Bear III is made in America according to PanelClaw's stringent quality standards and will be on display at the SolarWorld booth.
SolarWorld REAL VALUE: SolarWorld manufactures and sells solar power solutions and in doing so contributes to a cleaner energy supply worldwide. As the largest solar producer in the United States and Europe, SolarWorld employs about 3,200 people and carries out production in Hillsboro, Ore., and Freiberg and Arnstadt, Germany. From the raw material silicon to solar wafers, cells and panels, SolarWorld manages all stages of production ? including its own research and development. The company maintains high social standards at all locations across the globe and is committed to resource- and energy-efficient production. Headquartered in Bonn, Germany, SolarWorld was founded in 1998 and has been publicly traded on the stock market since 1999. For more information, visit www.solarworld-usa.com
Please go the http://www.ladydragon.com for more news
For Breaking news please
Click here to listen to LadyDragon Radio Shows