Interview with Serena Williams before her match with Alexa Glatch at the 2009 US Open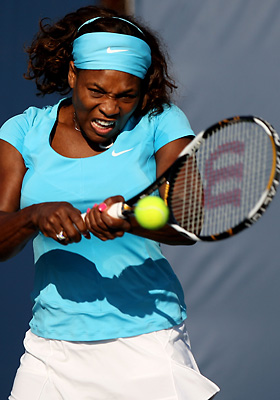 Q. How do you feel about your first round match against Glatch? You played her in Miami.
SERENA WILLIAMS: Well, she's a really good player. She gave me a tough match in Miami, and she's been playing really well and really solid tennis. It's definitely not an easy match, but I look forward to it. It will be good.
Q. After you won Wimbledon you spoke very entertainingly about the No. 1 ranking and what your thoughts were about it. After this summer with Dinara still at No. 1, what are your thoughts about the No. 1 ranking?
SERENA WILLIAMS: I don't talk about that anymore. I'm sorry.
Q. How come?
SERENA WILLIAMS: I've talked about it a lot, and if you want to read some answers that I said, you know, you can, but I think we should talk about something else. It's more exciting, more new.
Q. Do you have regrets about what you said after the Wimbledon victory?
SERENA WILLIAMS: What? I mean, I'm very excited to have won Wimbledon, Australia and this tournament last year, so I have no I don't live with regret. Do you? (laughter.)
Q. Sometimes.
SERENA WILLIAMS: I try not to. You shouldn't. (laughter.)
Any other questions that's not about No. 1?
Q. How would you describe the state of your game right now?
SERENA WILLIAMS: It's okay. I'm really a perfectionist. And I feel like every practice I just work so hard, and I try so hard, and so I feel like I have been having my best practices, but I think my dad's like, you're doing great. My mom's doing like, you're doing awesome. So it helps me. I just need to make sure I stay relaxed.
Q. You have a book coming out Tuesday, right?
SERENA WILLIAMS: Yeah.
Q. That and this at the same time, where is your focus?
SERENA WILLIAMS: My focus right now is on the ball, and I'm excited to have a book coming out. I think it's a great you know, it's almost surreal, like I never thought that I would get to this point in my life and just have an opportunity to write. I mean, I love writing, and then actually to have an opportunity to have a book coming out, which I think is just beyond cool.
So I think it will motivate me to want to do really well here.
Q. You write a lot on your blog and you write a lot with your fans on Twitter. What are your thoughts about the warnings that they're giving players about being careful with what they Tweet?
SERENA WILLIAMS: Well, I think it's definitely important, because they're so there's a lot of things that happens in tennis that shouldn't happen, and, you know, you don't think about it sometimes when you Tweet certain things.
But I guess you have to kind of think about everything nowadays.
Q. 2014, US Open will be the only Slam without a retractable roof. Do you think the US Open should add a roof here?
SERENA WILLIAMS: I think it would be kind of hard to add a roof on this wonderful stadium, so I think we're fine. You know, historically we've done well, and you know, it will be just kind of weird to put a roof on Arthur Ashe Stadium.
Q. How different is your focus at the beginning of a Slam versus the other tournaments, like the Open series this summer in between Wimbledon and here?
SERENA WILLIAMS: Well, my focus is always different. I think anyone's focus maybe not anyone. My focus is always different in Grand Slams. I feel like, you know, this is it and I really I just get super disappointed when I lose in a Grand Slam.
At the other tournaments I get desperately disappointed, but then I feel like there's next week, and I try harder, and then there's the next week.
So I always try to do the best I mean, whenever I lose, I'm not happy. I'm not a good person to be around. I just try to do the best that I can.
Q. Last year you seemed like really, really excited when you won here and almost relieved because you had the disappointing Wimbledon loss. Here you came and you won Wimbledon. Is the emotion different, like you want this more or less or the same?
SERENA WILLIAMS: I definitely want it more. Wimbledon was a while ago. Yeah, I won it, but it seems like a lifetime ago already. It's just been such a whirlwind but I would love to do well here. I love playing on this court. I just love playing in the atmosphere, and I just think it will be I'll just do my best.
Q. How have you been preparing?
SERENA WILLIAMS: Just training a lot. Hitting a lot of balls over the net. Just everything I've been doing, just as hard. Nothing really too special. No marathons or anything.
Q. When you look at your game right now, what do you think is your strongest point right now and the weakest point?
SERENA WILLIAMS: Well, I don't know. I think my strongest point is that I have an all around game. I can serve well, return well, volley if I ever decide to come to the net.
I think that's a strength to have when you play against someone that is pretty good all around.
Q. And your weakness? What would you say you're working the most on?
SERENA WILLIAMS: You know, I don't talk about my weakness. That's kryptonite thinking.
Q. How do you feel about Venus' Green Tee that she designed for the US Open this year? Do you like it or would you have designed it a little bit differently or the same?
SERENA WILLIAMS: I love it. I think it's awesome. She's great. She actually always helps me with my designs, so I wish she could have helped me with that and make that one of mine, but maybe something else.
Q. What do you think Kim Clijsters has shown with coming back so well so soon in her comeback?
SERENA WILLIAMS: You know, I have to say I was a little shocked. I didn't expect her to do I expected her to do well, but it looks like she took a week off. I'm happy, and it makes me actually want to work harder. Like okay, this girl is good. She hasn't lost a step. She hasn't lost anything. And even just to hit next to her sometimes she just looks so good, and it's cool, and it's actually I think super good for women's tennis.
Q. In what way? What's the benefit of her return?
SERENA WILLIAMS: Well, she's an exciting player to watch. She's a fun player to watch. She just brings that, you know, big Belgian crowd to tennis, as well other areas. It's really cool.
Other Serena News
Interview with Serena Williams after her win over her match with Alexa Glatch at the 2009 US Open
Interview with Serena Williams before her match with Alexa Glatch at the 2009 US Open