Interview with Serena Williams after her win over her match with Alexa Glatch at the 2009 US Open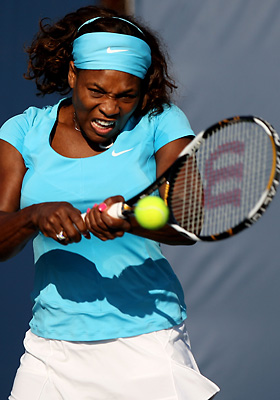 Q. It's been 10 years since you first came here. Is there an appreciation that you have for this tournament that you gained over the years?
SERENA WILLIAMS: Ten years ago I definitely wasn't a favorite. I felt like so like I had nothing to lose, and that's kind of how I like that attitude. When you play with that attitude, then you can go a really far way. That's kind of how I would like to even approach it this year.
Q. Is that like a mental kind of ambition of yours to try to just shut out expectations and just play and kind of let it all hang out?
SERENA WILLIAMS: Yeah, absolutely. I just kind of shut out every expectations and don't really read too much of anything, what anyone's saying. You know, don't keep your ear too low to the ground, but just kind of just relax.
I think that can be difficult for any player, but it's definitely possible.
Q. You mentioned 10 years ago, but what do you think the little girl Serena Williams who signed herself up for her own first tournament would think of Serena Williams today with all the Slams, all the accolades?
SERENA WILLIAMS: Oh, my gosh.
Q. What do you think she would think of all this?
SERENA WILLIAMS: I think when I first signed up with that tournament, what you read about in my book, I think that I would just be really I would think that this Serena Williams today is super cool. I would love to get her autograph.
I think she would have been my idol, because it would have been like growing up there weren't too many black people. I loved Zina Garrison and Lori McNeil. I would have had a little favorite toward myself and Venus.
Q. Was it something special that most parents sort of had to be in the game of tennis and know the game and culture of tennis to start teaching their kids. Did your father do something outside the box by doing it a different way and in the inner city?
SERENA WILLIAMS: Yeah, absolutely. I think he did something totally different by starting us and, you know, he never played tennis before. Knowing no one in his family ever did. He was a good athlete. My mom was a great athlete. I think that was all that was needed.
Q. The state of your game is good right now. I hope it continues. What do you attribute your success to? Training, fitness? You look really good. Are you really 100% ready to take this tournament?
SERENA WILLIAMS: I don't think about success. I just think about playing a match and just staying focused. You know, I just take it one day at a time.
Q. You have this tennis thing down pretty well. I was at Yankee Stadium Friday night. Were you working on your pitching?
SERENA WILLIAMS: I thought I was doing fine. I thought the goal was to get it to home base, but apparently it's not. I thought you know, I thought it was just at least get it there. Apparently I have to hit it lower. No one told me that. I didn't know.
They kept saying, I hope you can get it there. I thought, I can get it there easy. I think I got the sports mixed up. Maybe I thought it was football or something.
Q. That would have been a good touchdown pass.
SERENA WILLIAMS: Would it? Maybe I have to do a first down pass or something. I got confused.
Q. Mets are next week. Maybe you can work on it again.
SERENA WILLIAMS: Yeah.
Q. What compelled you to want to write an autobiography right now? How do you think it turned out?
SERENA WILLIAMS: Well, it's not a complete autobiography about my whole life. It's definitely a memoir, however. It actually is a motivational piece. All the people that read it are kind of motivated through my struggles.
I thought it was necessary, because I never really talked too much about my personal life. I think having so many wonderful fans and having, you know, being blessed that people follow me, just get to know a little bit more about the person. Hopefully they can be motivated to do better themselves and to, you know, just be better people, as well.
You know, I felt honored that I even had a chance to write.
Q. Was it a difficult process? Was it a lot of work?
SERENA WILLIAMS: Actually, no. I actually wrote it a long time ago. Just did a couple final touches last year. Just probably added only two more chapters. It kind of just all came together, and it was really pretty much about the right time. I love writing, so it was a no brainer.
Q. One of the most moving parts of the book I think to most people was really when you were kind of down, you said all the competitive bones in my body were broken, feeling kind of out of it. Well, depressed. You didn't have sort of the strength of character to face it at that particular time. What were your feelings then? How did you turn that around?
SERENA WILLIAMS: It was just that's another reason I wrote it, because I felt that what makes a champion isn't how well they do. It's about how well they can recover when they fall, or if they fall.
And you look at someone like I love Muhammad Ali, and he went to jail for a period of time and he came back on top of the world. You know, I just thought what it would be like. You know, I was on top of the world, and then things came crashing down. You get to see people who are really your friends and you get to see people that really stick by your side and how you can recover from that and stay strong.
I just think anyone can do it. You just have to have a kind of guide sometimes and just getting there.
Q. Were you pleased with the guidance you got at the time?
SERENA WILLIAMS: Yeah, I mean, I definitely think that spiritual guide is the best thing for me, and I wouldn't want it to be any other way.
Q. You also talked about talk therapy as a guide.
SERENA WILLIAMS: Yeah.
Q. You talked openly about that, which is a pretty brave thing to do.
SERENA WILLIAMS: Yeah, it wasn't very easy. But however you get there, whatever way you take to get there is very interesting. That's one of the routes I take, because I didn't know where else to go. I felt I didn't have anywhere else to turn.
Obviously I did, because I did have my family. And looking back on that, I realized that I could have done things different. But, you know, whatever it took to get there, I thought was just to get me motivated. I think ultimately my trip to Africa helped out, as well.
Q. Do you find it ironic that the state of tennis in America rests in the hands of two African American sisters?
SERENA WILLIAMS: I don't really think about it. I think that there is a lot like the girl I played today, she's American and she's actually a really good player. She can be really good.
Q. Anything special about the jewelry you're wearing for this tournament?
SERENA WILLIAMS: Well, I'm wearing my whole collection from the Serena Williams, Signature Statement, which is available on HSN, which I'm really (laughter.) I'm sorry, but he asked, so...
I'm really excited about it because I love jewelry, and I think people really know me for jewelry. It will be available starting September 19.
Q. The earrings are part of it?
SERENA WILLIAMS: Yeah, everything, earrings, necklace, lucky ring. I have a bracelet, but I didn't wear it today.
Q. We'll be seeing you on Home Shopping Network? You have appearances?
SERENA WILLIAMS: Yeah, I've been on the Home Shopping Network a few times. You know, there's fashions and all kinds I just feel really honored. I love fashion and love designing. It's just great.
Q. Who is your publisher. Will you be doing any signings?
SERENA WILLIAMS: Yeah, I'm doing some signings. But not now. Right now I am I have another job right now that's calling.
Q. What's the name of the book? Who is the publisher?
SERENA WILLIAMS: Called On the Line, and it's published by Grand Central Publishing.
Q. Serena mentions the address 1117 East Stockton. What kind of images? What kind of thoughts come to your mind?
SERENA WILLIAMS: You know, I just think of I think of the front yard and the porch that we used to sit on, the stoop that we used to always sit on. I just think of a rose bush which was in my front yard.
I just smile whenever I think of 1117, so it just brings wonderful memories. That's where I grew up, and it will always mean something special in my life.
Q. What was it like to cuddle up on the bunk bed of your older sister at night?
SERENA WILLIAMS: Well, you never know where I was going to sleep, so... It was fun, though. Like I said in the book, I got to get to know each of them in a special way, and I don't think any of my sisters had that relationship with any of them the way I've been able to because of that.
You know, I still like to sleep with the teddy bear and dog to this day. That's why I always have my dogs with me.
Q. Finally, what did it feel like when six of you in that van sort of went down and sort of descended on the park and sort of took it over as your own?
SERENA WILLIAMS: It was great. I love going to trunk tournaments. We used to travel in the bus, Volkswagen buses, really old. Sometimes we'd barely get there. We would get there, and I remember I used to always go watch play Venus play and I desperately wanted to be on the court.
When I finally got my chance, I knew that's where I belonged. I still belong there, so I'm glad to still be there.
Q. I know fashion is hot for you right now, but are you still pursuing acting?
SERENA WILLIAMS: You know, I'm into writing. I would love to do acting, but I haven't been able to get a job. I figure if I write my own script then I can star in it. That's what I'm trying now. I can't be I haven't been cast recently. It's tough out there.
Q. If you were writing the story about the 2009 US Open women's draw, what would be your lead?
SERENA WILLIAMS: Oh, what would be my lead? Are you trying to get this for your story? (laughter.)
Just making sure. Well, Serena's back where she belongs.
Other Serena News
Interview with Serena Williams after her win over her match with Alexa Glatch at the 2009 US Open
Interview with Serena Williams before her match with Alexa Glatch at the 2009 US Open