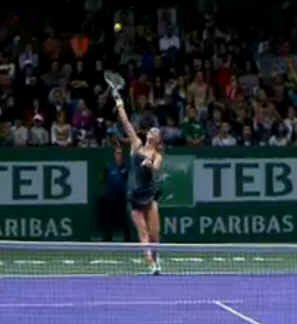 Victoria Azarenka wins over Angelique Kerber at the 2012 TEB BNP Paribas WTA Championship
MONTREAL--(LadyDragon.com)24/10/12-- The best match that has been played in a long time, Victoria winning the long match in 3 sets 6-7, 6-7, 6-4 in 3 hours and 07 minutes.
Before we start, Petra Kvitova retired so Samantha Stosur will replace her tomorrow.
This is the second match of the day.
THe first was match was won by Serena - Serena Williams wins over Na LI at the 2012 TEB BNP Paribas WTA Championship
Victoria serving first.
Good start from Vic, she close the game with her first ace, 1-0.
Angelique starts on fire and takes a quick 3-1 lead.
Vic back on track holds and breaks 3 all.
Good game from Vic she holds to 15, 4-3. Angelique is serving well again holds to Love, 4 all.
Vic holds to 30. 5-4
After 30 minutes of play, this is a very good match so far they are both playing well in a fast and furious way and it is quitye fun see :)
Angelique serving to stay in the set.
Quick good hold from Angelique 5 all. Vic holds to 30, 6-5
Angelique serving to stay in the set again.
Angelique goes down 30 but comes back to bring us to a Tie Break, 6all
! for Vic, 1 all, 2-1 Vic, 3-1, 4-1, 4-2, 5-2, 6-2, 6-3, 6-4, 6-5, Wow drop shot in the net 6 all, wow 7-6 for Angelique, 7 all, 8-7 Angelique, 8 all, 9-8 Vic, 9 all 10-9 Angelique, 10 all. 11 Angelique, 11 all, 12 -11 Angelique. A long ball from Vic give the set to Angelique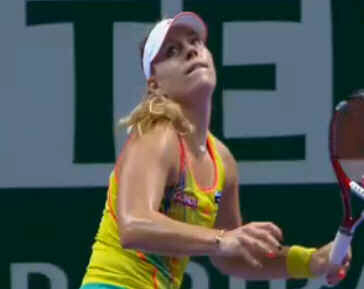 Wow what a fantastic TB, it mirrors what the set was about very good tennis being played by both players very exciting to see.
Vic breaks and hold 2-0, Angelique serving better now 2-1, hey both hold 3-2, Vic holds to Love 4-2, 4-3, Vic gets broken to love, 4 all.
Vic off her rock now.
After over 13 minutes of play Angelique finally hold to go to 5-4,
That game again is a good resume of how the match is going.
Vic serving to stay in the match
Vic saving 2 match points to bring us to 5 all. Fantastic game from Angelique, Vic made her run so much still she managed to hold, 6-5.
Again Vic serving to stay in the match.
2 hours have been played already.
Vic holds to Love.
An other Tie Break to play.
1-0 Vic, 2-0, 3-0, 4-0, 4-1, 5-1, 6-1 6-2, 7-2
Vic wins comfortably the TB to bring us to a third set.
Very long good match and we still have Maria and Rad that will play after them.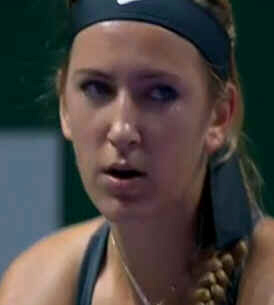 Vic starts strong with a 2-0 lead.
Angelique breaks back and asked to talk to her coach, 2-1.
Back on serve.
Angelique holds 2 all, Vic holds quickly, 3-2, Long game but Angelique holds, 3 all. A quick hold to 15 from Vic, 4-3.
An other long game but this time Vic breaks and now serving for the match. 4 all.
More drama Vic gets broken to 30, Angelique still alive now serving, 5-4.
Over 3 hours of play already.
Vic breaks and finally wins the match.
Wow the best match I saw in many year both played so well.
Look at the stats.
2 aces - 4 DF from Vic and 8 aces -4 DF from Angelique.
This is where you see can how much they fought and the quality of the match.
45 winners - 40 errors from Vic and 49 winners - 43 errors.
Like you can see lots of winners plus both are in the Positive.
This is the best match of the Tournament so far.
Coming up next the Maria and Rad match.
About TEB BNP Paribas WTA Championships in Istanbul
TEB BNP Paribas WTA Championships, which will be staged at the Sinan Erdem Arena in Istanbul, Turkey.
This final qualification rounds out an exceptional player field for the WTA's year-end finale, to be held from October 23-28 and featuring the world's top eight singles players and top four doubles teams, competing for the coveted title and a share of $4.9 million in prize money.