Petra Kvitova has taking an other seed out, Dinara Safina at the US Open 2009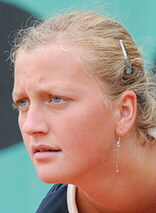 Petra Kvitova has taking out an other seed Dinara Safina
One might think it is a surprise lost but not if you have seen all of the WTA players played since the beginning of the year in Autralia with New - Zealand, Sydney and the Australian Open same parterned is happening at the near end of this year.
All the one that supposed to win does not.
Elena Dementieva started on fired this year by winning the first 2 tournaments of year New-Zealand and Sydney and ran out of steam for the Autralian Open.
Maria Sharapova the samething, played 6 matches in 7 days in Toronto at the Rogers Cup and lost in the final to Elena Dementieva
One would thing after all that Elena is a shoe in but its like the starts of the year too much tough matches and Elena falls to Melanie Oudin a new rising start from the USA
Melanie got the media attentions when she took out JJ - Jelana Jancovisc at Wimbledon this year and now Elena.
But now more then ever will she be on your front page because she just took out Maria Sharapova.
Meaning that the 2 finalist at the rogers Cup in Toronto, one if not the most prestigeous tournament in the world besides the Grand Slam have been remove by Melanie Oudin.
Again one migh think she has a shoe in again her next opponnet Nadia Petrova, but one might think again Maria kept beating Nadia and now Nadia is the onlly Russian left in those 3, one needs to remember that Nadia has a big serve and she is a great front runner.
Will Melanie tke out an other top russain or will Nadia put a stop to all this, stay tune :)
Now Dinara is taking out by Petra not really a surprise if you know Petra and the weed Dinara had.
For tho who did not had the chance to see Petra play this year, she is a new up coming player from the Czech Republic.
Other News on Dinara
Interview with Dinara Safina after her win over Olivia Rogowska at the 2009 US Open
Dinara Safina wins her match against Amelie Mauresmo
Victoria, Dinara Dominika and Maria all moving to the quarter finals
WTA ranking for the week of May 25, 2009
Dinara Safina wins the Mutua Madrileña Madrid Open title against Caroline Wozniacki