Maria Sharapova losses to Melanie Oudin at the 2009 US Open
Interview with Melanie Oudin after her win of her second round match over Elena Dementieva at the 2009 US Open
Melanie won in 3 sets 5-7,6-4,6-3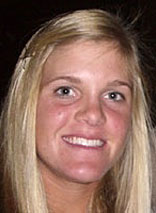 Q. Bigger than your win over Jelena in Wimbledon? How do you compare them?
MELANIE OUDIN: Well, this was pretty big, too. So was against Jankovic at Wimbledon. I think it means more to me, though, since this is the US Open. You know, I had the whole crowd cheering for me, so much support. I was struggling a little with my leg.
And just, I don't. The whole thing was just amazing. I can't believe I won.
Q. Can you talk about exactly what the problem is and how it might affect you going forward?
MELANIE OUDIN: It's I strained my IT band a little bit, and it was getting better. I think today though, kind of everything that was going on, the whole first time playing on Arthur Ashe, I was beating No. 4 in the world, about to beat her. I think that it just kind of started cramping a little bit. I should have had the whole thing taped.
Just a little bit of everything. A lot of things were going through my mind, so I think a lot of things went into it. But I think it will be fine for my next match.
Q. No. 4 in the world just was very gracious in describing the match and said you most definitely beat her. She did not beat herself. How does it make you feel to have a player of that stature make a comment like that about your game?
MELANIE OUDIN: That means a lot to me. I mean, that's really nice. She was very nice. She seems like a really nice player. I had to win the match. I felt like I had to win it. I didn't think she gave it to me. I knew that if I wasn't going to win that last point, then she was going to come back.
I mean, I'm glad I did it.
Q. What do you think when you saw your draw before the tournament? What do you think about it now?
MELANIE OUDIN: Well, when I saw the draw, I was like, Wow, this is not a very good draw compared to my like Wimbledon one, which I didn't have, you know, the 4 seed in my second round. But the thing is, I played with no fear today. I went out there. She's expected to win, and I just went out there and played my game and I came out with a win.
Q. You said you can't believe that you won, but before the match I think you believed you could. So why did you believe you could?
MELANIE OUDIN: During the match I had confidence, and, I mean, I was right there with her the entire time. I didn't think that she was she wasn't blowing me off the court. She wasn't hitting winners left and right on me. We had long points. I was right there with her.
I knew if I could play well and keep being aggressive and staying in there that I could do it.
Q. Is there something that happened this summer that sparked all of this? Why are you having such a breakout year this year?
MELANIE OUDIN: I guess my hard work is finally paying off. I haven't been doing anything different. I've just been playing hard like I always do and fight as hard as I can, and practice hard and give 100% every single time. It's finally paying off.
Q. Talk about the shoes. They say "believe" on them.
MELANIE OUDIN: Yes.
Q. Is that your saying or somebody's...
MELANIE OUDIN: Actually, my boyfriend gave me that idea to put on it, and I really liked it. So I put that on my shoe. It seems to fit me well.
Q. You have this specialty of taking down really good, really famous Eastern European mega stars. There is a player in the drawer, I think her name is Sharapova. Would you like to play Maria? And secondly, at Wimbledon after you won all that money, you said you'd stick with your old Toyota. Are you going to stick with it now, or are you going to upgrade?
MELANIE OUDIN: Well, first, I would love to play Maria, but she has to win tonight for me to play her. She has a tough match against Christina McHale, so we'll see how that goes.
And secondly, I love my Toyota Forerunner, so I'm not looking forward to getting another car at all. I just got it and I'm happy with it.
Q. You said you have no fear, and you went out there and you weren't supposed to win. Now as people are watching you and you're making these upsets and showing yourself that might change, how do you think you're going to deal with that?
MELANIE OUDIN: I don't think it's going to change at all. I don't listen to what other people say about me, like good or bad things. I just go out there and play my game. When I play with no fear, that's when I play my best. I don't worry about anything. I just play my game, and it usually works.
Q. Between Wimbledon and now, can you talk about what happened between Wimbledon and now? Were you getting close to winning matches, or were you having some issues with running out of wildcards? What was your time between Wimbledon and now like for you?
MELANIE OUDIN: Between Wimbledon and now? What I've done?
Q. Yeah.
MELANIE OUDIN: Well, I played three of the US Open Series tournaments, and I qualified I was in qualifying of all of them. I already used all my wildcards, so I had to play qualifying. But I felt like it was fine. I quallied in three of them and lost to some really good players.
I was just getting ready for the US Open, so I thought I did okay.
Q. So you were happy with how that was going? After Wimbledon you have a breakout. Were you happy with the way things have led up to here?
MELANIE OUDIN: Yeah, I thought I did fine in the US Open Series tournaments. I was just trying you know, back in quallies again. I had qualified and I drew some really tough opponents, and, you know, they were a lot higher than me and more experience and had tough matches. But, you know, I knew that I was close with them.
Q. Could you talk a bit about Justine Henin? I understand she was kind of a role model for you, what you liked about her game. I assume part of that was that she is not the tallest person in the world and had great results.
MELANIE OUDIN: Yes. Well, that's the first thing is that she proved that you don't have to be six foot something to be No. 1 in the world. But also, the way she plays, the way she moves, the way she uses all different shots and uses the entire court with her dropshot and her angles.
I mean, her one handed backhand is so good. I don't have a one hander, but it's still okay. I don't know. I just really like the way she plays. She figures out a way to take down these players that overpower her with her variety and her movement.
Q. How much have you been in Ashe Stadium in the past?
MELANIE OUDIN: Oh, today was my first day ever.
Q. Been there as a spectator a few times?
MELANIE OUDIN: Yes.
Q. What was it like just walking out there?
MELANIE OUDIN: Today?
Q. Yeah.
MELANIE OUDIN: It was really cool. I'm glad I got to warmup on it, so I wasn't like freaked out as soon as I walked out there. I love being, you know, in big courts and stuff like that. Wimbledon helped that a lot.
Q. Time and again we've seen players on the verge of a big upset, and the moment just gets too big for them. Obviously it didn't today. The last few points, what were you telling yourself, just how to stay in the moment? What were you telling yourself?
MELANIE OUDIN: Well, when I got up 40 Love, I was like all right, I have three chances to win this match. And she played two she had two winners on me the last two points. Yeah, when I was up 40 Love. Then at 40 30, I was like all right, this could be my last chance to do it.
So I needed to go for a big serve, and it went in. I just couldn't believe it. It was amazing.
Q. What did you prove to yourself today, do you think?
MELANIE OUDIN: Hasn't exactly hit me yet, because I've been like doing treatment and all that stuff. But when I'm in the third round of the US Open in two days, I will be it's just incredible.
You know, the thing is I didn't really do anything different. I've just gone out there and played my game and I've ended up winning, so...
Q. Are you familiar with Marietta?
MELANIE OUDIN: Yes.
Q. Would you classify yourself now as bigger than the big chicken?
MELANIE OUDIN: I don't know, the big chicken is pretty big.
Q. People have been writing and saying since Wimbledon that you're the next lady to move in and take the place of Serena and Venus. I just wonder, are you paying attention to that? Is it hard not to? Does it affect you at all? Hey, I've got to move up and I have to do this?
MELANIE OUDIN: Hasn't really affected me. I told you before, I don't really pay attention to what other people say. I think that it's really cool to be called the third best American behind the Williams sisters. That's just incredible since I've watched them since I was a little girl. They've been like my idols. I'm really proud of that to be the third best American.
Q. Are you going to go ahead and play doubles?
MELANIE OUDIN: I think so.
Q. Why?
MELANIE OUDIN: As of now, I am. But we'll see. We'll see. I don't know yet.
Q. Do you have an identical or fraternal?
MELANIE OUDIN: Fraternal. We're totally opposite, yeah.
Q. She plays tennis also?
MELANIE OUDIN: Yes.
Q. Can you tell us about her a little?
MELANIE OUDIN: Yes. She is basically my total opposite. So if you think of me, like think total opposite and that's her. Not that she's not she's a nice girl too and stuff, but yeah.
But yeah, I mean, we both like tennis, and we've played since we were little. She plays high school tennis on her team. She's going to go to a good college, a scholarship. But she's very academic. Always wanted to be an obstetrician since she was little. So we've both had very different goals.
Q. There is a certain symmetry with two 17 year olds playing two Russian powerhouses in the same day. How well did do you know Christina? Do you think that this will be an inspiration to her going into tonight? Do you plan on speaking with her?
MELANIE OUDIN: I know Christina pretty well. I've known her since the juniors and stuff, and I'm sure that she's nervous going into tonight because she hasn't had this kind of experience before. She played a great match the other day to win her first round, so that's really good.
But if she I mean, if she wants some advice I'll give it to her, but I'm sure she's ready for tonight.
Q. Have you played her before?
MELANIE OUDIN: Christina, yes.
Q. How did you do?
MELANIE OUDIN: I've beaten her the past times we've played.
Q. And the bigness of the moment, she certainly is prepared for it. How did you overcome sort of the bigness of this place and keeping your mind so that you didn't let it overwhelm you?
MELANIE OUDIN: Again, I think Wimbledon helped me, because I haven't been in Arthur Ashe before. Elena was the highest ranked player I've ever played, so it was a big deal today.
I think all of the excitement and just everything kind of did not help my leg at all today. But I was just happy to be out there, and I'm glad I won.
Q. What's your injury? Just a strained thigh or what?
MELANIE OUDIN: Yeah, just strained IT band. It's not like serious or anything.
Q. You spoke before about writing "believe" on your shoes. Can you describe what the belief is and what it means to you?
MELANIE OUDIN: For me, it's all about that. It's believing that I can beat these girls and hang there with them. If I didn't have that, then there's no way I'd be I would have been able to win today.
Because believing like in myself and my shots and playing within myself today, that's how I won is knowing I believe that I could do it.
Q. Could you talk a little bit about your team? What's the strength of Brian in your coaching? Is it helpful going out on tour and having a boyfriend? Does that help you out in your whole life and tennis life?
MELANIE OUDIN: Well, I've been with Brian since I was nine years old, so basically my whole tennis career. He's like another father to me, because, I mean, he knows how hard to push me. We've been through so much together. So I'm so glad that he got to be here today and stuff and share this with me.
Yeah, it's good to have a boyfriend, I think, in the tennis business. Because you're like on the road so much and you're by yourself a lot. It's good to have someone to talk to.
Q. What's his name, first off? Have you had a chance to check your phone? And if so, what were the texts and the messages you got since you've walked off the court?
MELANIE OUDIN: His name is Austin Smith. He's actually here. So, yeah, I'm really glad he got to be here, too.

Other News on Melanie
Interview with Melanie Oudin after her win over Nadia Petrova at the 2009 US Open
Melanie Oudin wins again this time it is over Nadia Petrova at the US Open 2009
Melanie Oudin will play againts Nadia Petrova in the second match on Arthur Ashe Stadium this morning at the 2009 US Open
Interview with Melanie Oudin after her win over Maria sharapova at the 2009 US Open
Interview with Maria Sharapova after her lost to Melanie Oudin at the 2009 US Open
Maria Sharapova losses to Melanie Oudin at the 2009 US Open
Elena Dementieva losses her match against Melanie Oudin