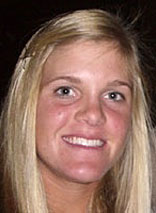 Melanie Oudin will play againts Nadia Petrova in the second match on Arthur Ashe Stadium this morning at the 2009 US Open
Melanie won in 3 sets 3-6,6-4,7-5
Melanie turn pro in 2008 and was not very well known outside of the US. But now, she is known all over the world specially in Russia.
Melanie is the one took out 2 times Olympic medalist [ Gold medal in China and Silver medal in Sidney] and ranked number 4 Russian Elena Dementieva that got her a lot of attention.
But what really got her on the map is when she took out of the tournament Russian Maria Sharapova who did not play last year at the US Open 2008 because of her shoulder injury and very much loved in New-York.
Basically she has beated the 2 finalist at the Rogers Cup in Toronto a few weeks ago.
Now this morning she is facing an other Russian Nadia Petrova who surely though she would face Maria and Maria always give her a hard time when they play but now Nadia is well aware of Melanie's talent and fighting spirit so she will be on her guard for sure.
Will Melanie leg injury be a problem for her and will she beat an other Russian again. We shall see but one thing is sure is that she is on everyones whatch players, fans and media this morning.
The first match this morning is between Kateryna Bandarenko and Gisela Dulko at 11am EST then will follow the match between Melanie and Nadia.
Other News on Melanie
Interview with Melanie Oudin after her win over Nadia Petrova at the 2009 US Open
Melanie Oudin wins again this time it is over Nadia Petrova at the US Open 2009
Melanie Oudin will play againts Nadia Petrova in the second match on Arthur Ashe Stadium this morning at the 2009 US Open
Interview with Melanie Oudin after her win over Maria sharapova at the 2009 US Open
Interview with Maria Sharapova after her lost to Melanie Oudin at the 2009 US Open
Maria Sharapova losses to Melanie Oudin at the 2009 US Open
Elena Dementieva losses her match against Melanie Oudin