Elena Dementieva wins the Rogers Cup Tournament in Toronto by defeating Maria Sharapova in 2 sets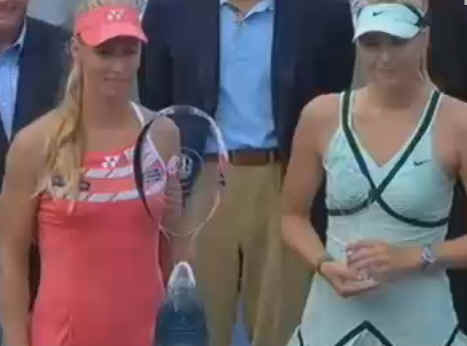 First time ever in the history of the Rogers Cup that it is an all russian final and second year in a row a russian winner last year it was Dinara Safina.
What a diffence from a year agon for Maria Sharapova, last year she was the Rogers Cup in Montreal and found out that she could not play anymore and needed surgery now she is in the final. Maria will be looking for her first title this year but will she have enought left in her to today because she has played 3 matches in the last 36 hours. She has played 6 matches in 7 days , in a gran slam you play 7 matches in 14 days before reaching the final.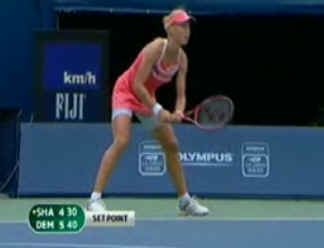 Elena Dementieva is having a good year so far won the 2 first tournament of this year New-Zealand and Sidney and she has won the Gold medal last year in China and the Silver medal in Sidney. Plus she has reach the semi-final in the last 4 tournaments she has played in.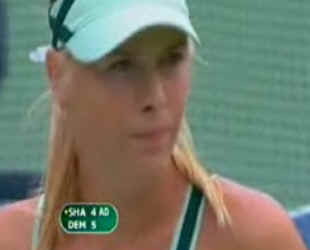 Elena serving first held to love. 1-0. Maria double fault to start her game, 3 double fault gave the game to elena 2-0. Maria wins her first 2 points against Elena then Elena double fault break point now Elena double fault to give the to maria. 5 double faults in the last 2 games to bring them back on serve. 2-1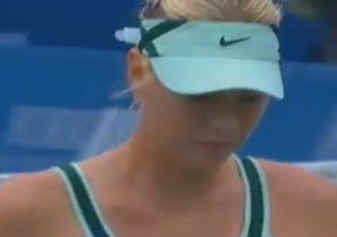 It will be a long match if they keep that up.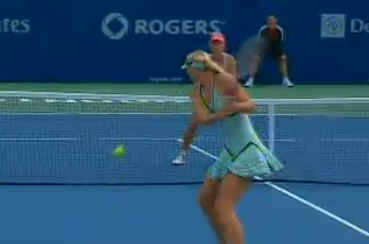 Maria serving with the wind but like yesterday Elena is returning well to bring it to a break point and win the point 3-1 Maria looks tired and looses an other game to Elena 4-1. 16 unforce errors so far from Maria, net not on her side as well ball hit the net and bounces out for a bp, maria brings it back to an advantage, deuce 7 long game, 3 break point saved and Maria hold 4-2, Maria keeps fighting and she has a break point and Elena double fault and gives the game to Maria. Back on serve 4-3 So far 4 double fault each as i say that Maria double fault to start her game, over 10 minutes long game and it ends up like it started a double fault to give the game to elena 5-3.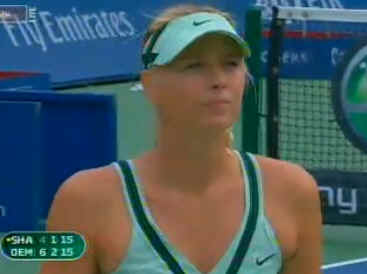 Elena serving for the set, wow very long 24 shot rally deuce Elena brings it to a set point, Maria brings it to a break point and Elena double fault to give the game to Maria again. 5-4.
1 hour match so far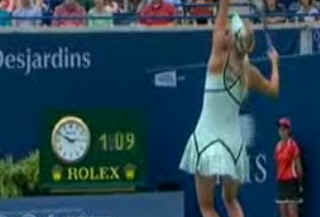 Maria losses her serve to give the set to Elena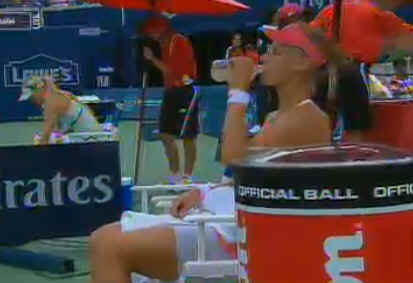 Maria's coach comes and she is not happy and he says to her well everyone knows your tired but what do you want to do give in keep on fighting and be a bit more patient.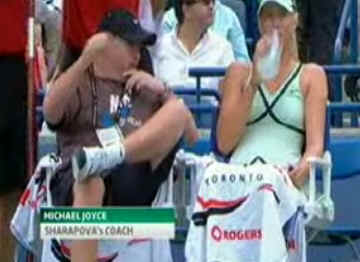 Maria 8 - Elena 5 double fault so far
Second set Elena knows that the win is close they hold serve until 3-2 then an other 10 minutes game, Maria serving and losses her serve now 4-2. Elena serving and holding to love 5-2. Maria holds 5-3 and Elena serving for the match and wins.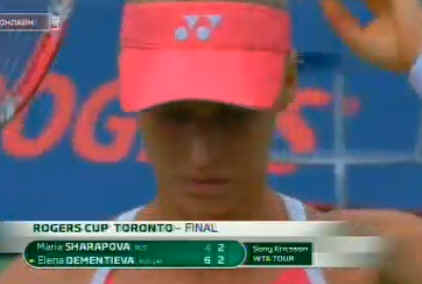 Obvious Elena was too strong for Maria today, she has never won a gran slam but the Rogers Cup is the next best thing for her to have and greeat effort from Maria even though she was very tired and understandably so.
In her post interview Elena said that she was so thrill to win the rogers Cup she has beem trying for so many year.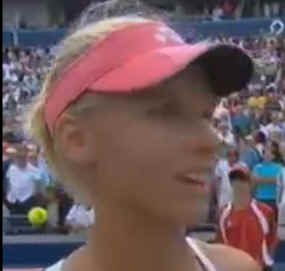 Maria in her presentation speach said that it is nice finally to hold a trophee in her hands, it feels like a long long while. Ater congratulating Elena said it was a year ago that she find out that she could not play for anymore and missied the olympics and the us open and she was very happy to hold a trophee in her hand again even though it was a small one :). She also was very happy to talk to the crowd and her fans and thank everyone that has supported her.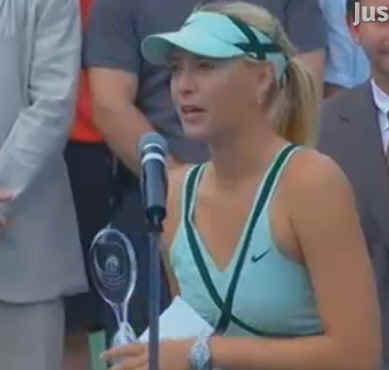 With that final Maria will be seeded at the US.Open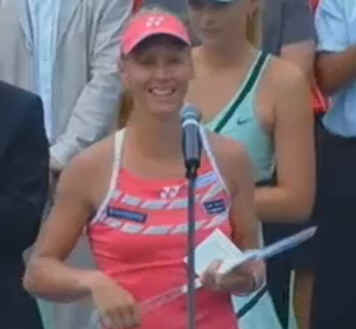 Elena said again how long she as been trying to win the Rogers Cup and now has got the the racket trophee :). She thank everyone and made a joke to his boyfriend Maxime that now he had no choice but to signed with the Maple Leaf and said to Maria good luck for the US Open she said she knew how difficult to come back.
With that win Elena will be ranked number 4.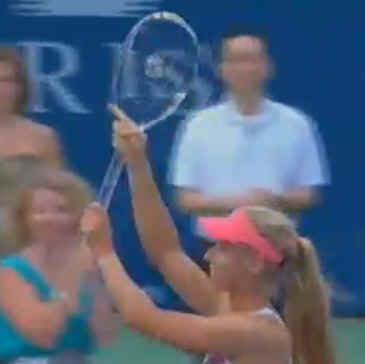 ROGERS CUP
Toronto-CAN
August 17-23, 2009
$2,000,000/Premier
Hard/Outdoors
Previous News
Elena Dementieva defeats Serena Williams and moves on the final of the Rogers Cup in Toronto
Maria Sharapova wins her match at the Rogers Cup in Toronto over Agnieszka Radwanska
Elena Dementieva wins her match at the Rogers Cup in Toronto against Samantha Stosur
Kim Clijsters losses her match at the Rogers Cup in Toronto against Jelena Jankovic
Maria Sharapova wins her match at the Rogers Cup in Toronto over Vera Zvonareva
Maria Sharapova wins her first match at the Rogers Cup in Toronto over Nadia Petrova
Jelena Jankovic wins Western & Southern Financial Group Women's Open title in Cincinnati