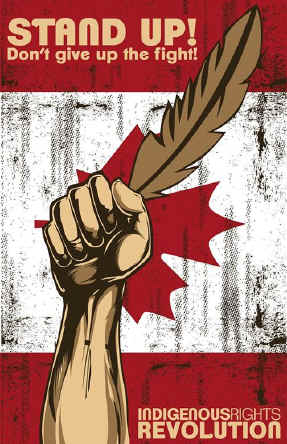 #IdleNoMore: First Nations To Rally to Express Opposition To The Harper Government's Attacks on Aboriginal Rights
MONTREAL--(LadyDragon.com)10/12/12-- 10.52pm EST, LadyDragon wrote - This attack on the Aborinal Rights has been planned since the day the white man put his foot on the shore on this continent.
But more recently the Canadian Goverment put a list of bills in motion in order to removed more then ever more rights.
Like I wrote a few weeks ago that Gaza was Undef Attack on purpose now it is the Indiens in Canada that are the target.
Now the Canadian goverment of Harper is going after the wildlife as well.
Like I keep saying the only way for evil people to flourish is for good people to do nothing.
Together We stop Israel now let's stop Canada.
I want you to check out those bills please: C-27, C-45, S-2, S-6, S-8, C-28, S-207, S-212.
Please read this: First Nation Strategic Bulletin where you will be able to read in detail what those Bills are about and more.
People are getting up and taking actions all over Canada.
People are rising up, please read the following press release of #IdleNoMore:
Under what is being called a national day of action and solidarity, First Nations and their supporters have organized more than 13 nation-wide rallies for Monday (December 10) to express opposition the legislation the Harper Government has put forward in Bill C-45 and other bills.
The movement, under the banner "Idle No More" (#IdleNoMore) emerged within the grassroots less than four weeks ago in Saskatchewan. It began as an effort to educate First Nations people on the multitude of legislation being put forward by the Harper government that they feel is a direct attack on the rights of First Nations. The organizers Sylvia McAdam, Jess Gordon, Nina Wilson and Sheelah Mclean began by organizing "teach-ins" to inform people.
On Dec. 2, when another Idle No More session was called in Alberta, more than 150 people drove into Louis Bull First Nation on a Sunday to hear what the presenters had to say. The organizer for that event, Tanya Kappo, took to Twitter and Facebook to help generate awareness on the matter as the passage of Bill C45 was imminent. Says Kappo, "the people in our communities had absolutely no idea what we were facing, no idea what plans Stephen Harper had in store for us."
Sylvia McAdam, one of the organizers of the original Saskatchewan events stated, "We are not really surprised by the amount of support coming spontaneously from the grassroots and from the Chiefs, because we knew we could no longer stay silent in the face of what is a legislative attack on First Nation people and the lands and waters across the country." McAdam said, ""Bill C 45 is not just about a budget, it is a direct attack on First Nations lands and on the bodies of water we all share from across this country."
Opposition by First Nations to Bill C-45 garnered national attention last week during when 300 First Nations Chiefs marched on Parliament hill, and several Chiefs, led by Chief Fox, went inside Parliament to deliver a message to the government. This refusal to allow First Nations leadership to respectfully enter the House of Commons triggered an even greater mobilization of First Nation people across the country.
Rallies will be held on Monday, December 10 in Vancouver, Whitehorse, Calgary, Edmonton, Stand Off, Saskatoon, North Battleford, Winnipeg, Thunder Bay, Toronto and Goose Bay-Happy Valley. More information can be found at www.idlenomore.com and also on our Event Pages
History of Idle No More Grassroots Movement
Idle No More began with 4 ladies; Nina Wilson, Sylvia McAdam, Jessica Gordon & Sheelah McLean who felt it was urgent to act on current and upcoming legislation that not only affects our First Nations people but the rest of Canada's citizens, lands and waters.
The focus is on grassroots voices, treaty and sovereignty, it began in the early part of October when discussing Bill C 45. All 4 women knew that this was a time to act, as this bill and other proposed legislation would affect not only Indigenous people but also the lands, water and the rest of Canada.
With the focus on the most urgent bill knowing it would initiate attention to all other legislation, the 4 ladies held rallies and teach-ins to generate discussion and provide information. They then decided a nation wide event was garnered so all could participate, thus, The National Day of Solidarity & Resurgence was called for December 10th, 2012, to oppose all legislation and to build solidarity while asserting inherent rights and nationhood while protecting our lands for all people.
These colonial forms of legislation that the government expects to unilaterally impose on us has brought us together, to stand together - Jessica Gordon
About LadyDragon
LadyDragon is Internationally known in every single country of the world.
LadyDragon.com existed before Google.
That is why when LadyDragon writes an article, it is picked up right away and put into Google News.
LadyDragon is always on the cutting edge of knowledge and write and speak in a very unique and direct way.
Even bringing you forbidden knowledge like the Secret Birth Certificate Bank Note
LadyDragon brings you powerful interviews like the one with Dalene Kurtis and Craig Lieberman from the Fast and Furious movie and the 2 exclusives with Joanie Laurer formerly know as Chyna from the WWF ( World Wrestling Federation).
Plus special report like being at the Playboy Mansion when Playboy unveiled their new video game
LadyDragon takes great pride in discovering new products, companies and people that are unknown and giving them a chance to be heard like the company Strategy First then was not known but now Strategy First is known as one of the best company in the world who develops strategy games.
Now LadyDragon is focusing on fighting for our freedom this is why LadyDragon open her second website fcm2012.com
LadyDragon has a new website called Free Canada Movement 2012
On her new site FCM2012, everyone can go there everyday to educate themself about the true facts on what is going on in the world right now.
The world has we know now is run by criminels that will be remove very soon in a process that is called THE EVENT..
Since LadyDragon is already known for her stellar reputation and unique way to write and speak, she took upon herself to lead the way to educate the world about what is REALLY going on.
Even bringing you forbidden knowledge like the Secret Birth Certificate Bank Note
Lately, LadyDragon was the first to speak out about the Israel Goverment when they started to targeted and killed journalists in Gaza
Israel attacks again the Journalists in Gaza who are trying to report the truth
Gaza under attack from Israel plus video of the attack of the press office