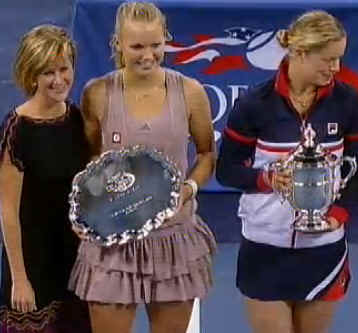 Kim Clijsters defeats Caroline Wozniackito wim the Final at the US Open 2009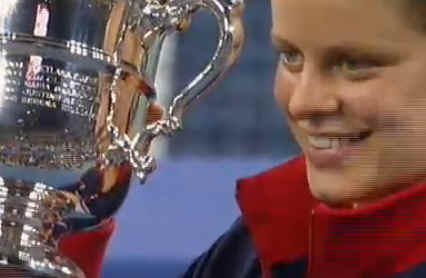 Kim Clijsters defeats Caroline Wozniacki 7-5, 6-3.
Very impressive performance for Kim not only for today but being gone for 2 year and being back only 1 month thats spectacular.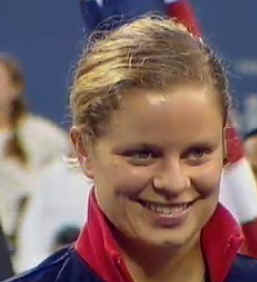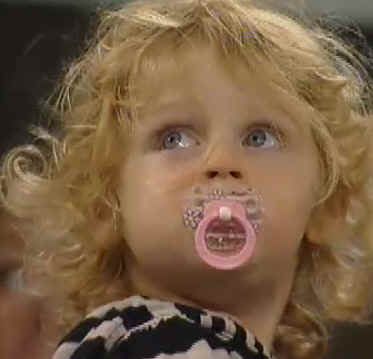 Plus now Kim at 26-year-old is now the first mother to reach a Grand Slam final since Evonne Goolagong Cawley won Wimbledon 1980.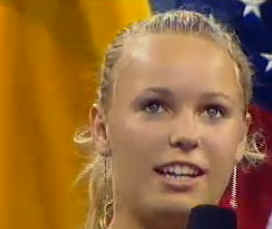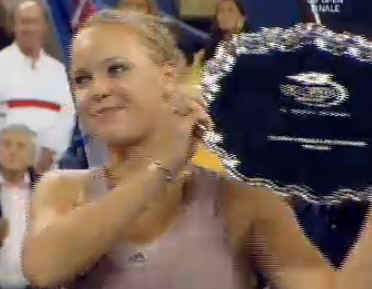 Kim serving first and holding and breaking Caroline, 1-1.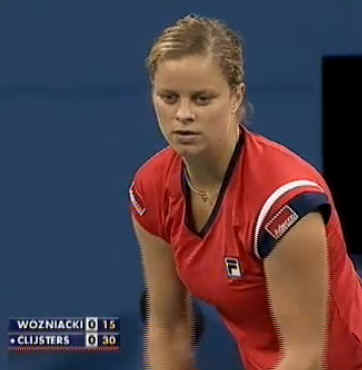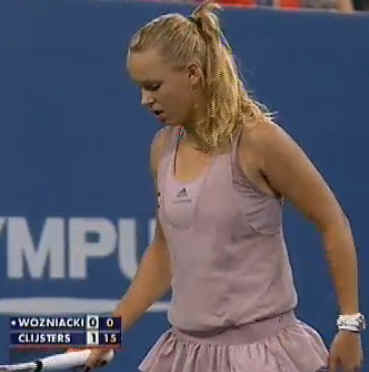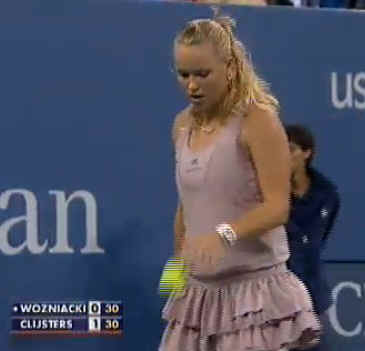 Caroline breaks back, 2-1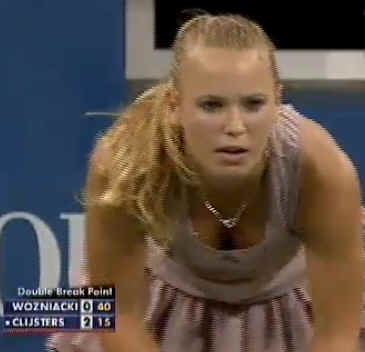 . 7-0 Forehand Winner for Kim so far. Caroline holds 2-2. But Kim leads as well in Unforced Errors 12-4 and Caroline breaks, 3-2. Long game and Caroline saves 3 break points, 4-2. Kim saving break points again, 4-3. Long exchange of 27 stokes but Caroline Double Fault and Kim breaks 4 all. A mix of everything and Caroline breaks again and now will serve for the first set.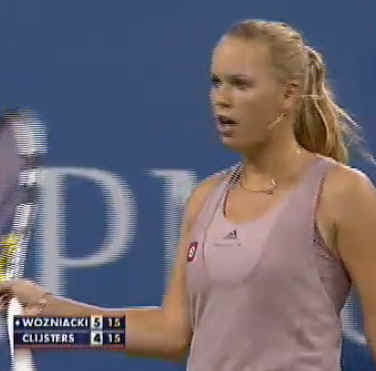 Again a 26 shots rally, break points again for Kim and its now 5-5. Very close match so far 39 points each. An other break point conversion only 3-12 and Kim hold, 6-5,
now Caroline need to hold serve to stay in the first set. Kim breaks to love and wins the first set 7-5.
Kim wins the second set 6-3 and the match .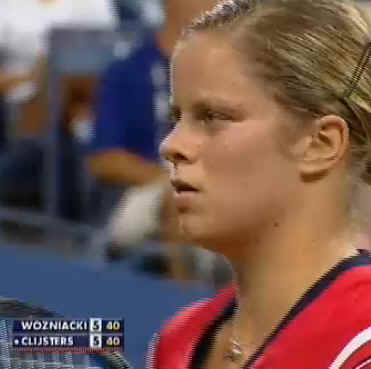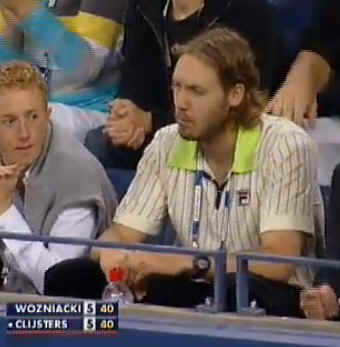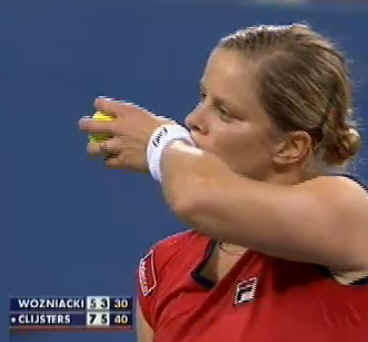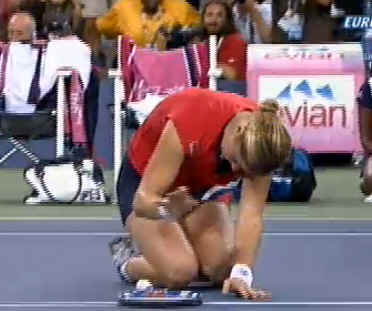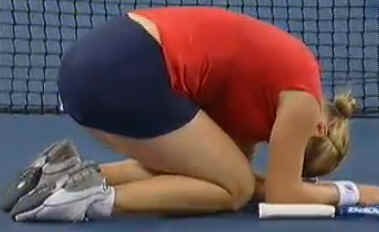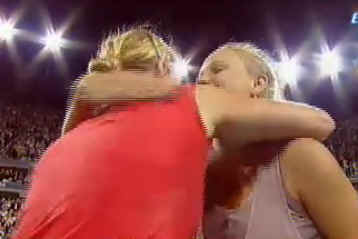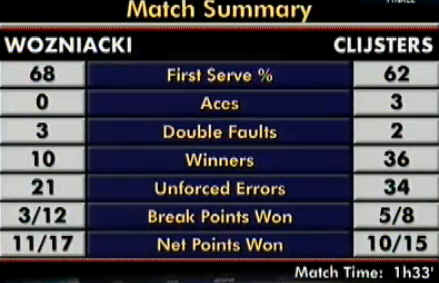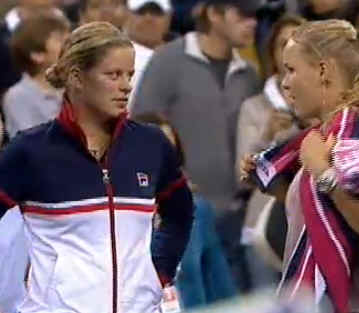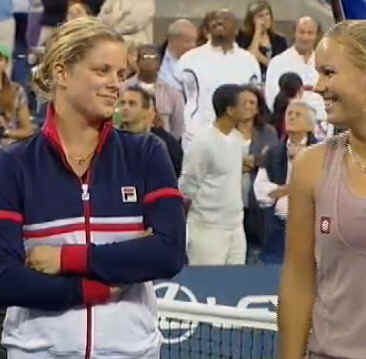 -------------------------
Elapsed Time by Set:
56
37
Match Summary
Wozniacki(DEN)
Clijsters(BEL)
1st Serve %
43 of 63 = 68 %
53 of 85 = 62 %
Aces
0
3
Double Faults
3
2
Unforced Errors
21
34
Winning % on 1st Serve
23 of 43 = 53 %
33 of 53 = 62 %
Winning % on 2nd Serve
6 of 20 = 30 %
15 of 32 = 47 %
Winners (Including Service)
10
36
Receiving Points Won
37 of 85 = 44 %
34 of 63 = 54 %
Break Point Conversions
3 of 12 = 25 %
5 of 8 = 63 %
Net Approaches
11 of 17 = 65 %
10 of 15 = 67 %
Total Points Won
66
82
Fastest Serve Speed
110 MPH
113 MPH
Average 1st Serve Speed
89 MPH
100 MPH
Average 2nd Serve Speed
74 MPH
85 MPH
Other News on Kim
Serena Williams Disquilified, Kim Clijsters will meet Caroline Wozniacki tonight in the Final at the US Open 2009
Kim Clijsters wins her match against NA Li and moves to the semi-final at the 2009 US Open
Interview with Kim Clijsters after her win over Venus Williams at the 2009 US Open
Kim Clijsters wins her match against Venus Williams at the 2009 US Open
Interview with Kim Clijsters after her win of her second round match over Marion Bartoli at the 2009 US Open
Interview with Kim Clijsters after her win over Viktoriya Kutuzova ar the 2009 US Open
Kim Clijsters wins her first round match against Viktoriya Kutuzova ar the 2009 US Open
Kim Clijsters losses her match at the Rogers Cup in Toronto against Jelena Jankovic