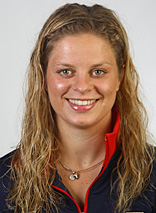 Kim Clijsters reaction on Justine Henin's comeback
Kim is delighted about Justine Henin's return to the tennis courts.
Sixteen months after retiring from tennis Justine announced she is ready for a comeback. "I'm emotional about it but I'm happy that I can confirm a return to tennis", Justine said.

"My first goal is to start playing the 2010 season and to resume in January. I don't know yet which tournaments I'll be playing, but my aim is to be ready for the Australian Open."

"I think Justine?s comeback is great news for women?s tennis and even better news for Belgium," Kim says.

"Justine has worked very hard to accomplish the results she has in her career, and I think it can only be a positive thing for the sport to have her back."
More about what Justine had to say; Justine Henin is coming back to play at the Australian Open in 2010
Other News on Kim
Serena Williams Disquilified, Kim Clijsters will meet Caroline Wozniacki tonight in the Final at the US Open 2009
Kim Clijsters wins her match against NA Li and moves to the semi-final at the 2009 US Open
Interview with Kim Clijsters after her win over Venus Williams at the 2009 US Open
Kim Clijsters wins her match against Venus Williams at the 2009 US Open
Interview with Kim Clijsters after her win of her second round match over Marion Bartoli at the 2009 US Open
Interview with Kim Clijsters after her win over Viktoriya Kutuzova ar the 2009 US Open
Kim Clijsters wins her first round match against Viktoriya Kutuzova ar the 2009 US Open
Kim Clijsters losses her match at the Rogers Cup in Toronto against Jelena Jankovic