Maria Sharapova moves on the final of the Rogers Cup in Toronto by defeating Alisa Kleybanova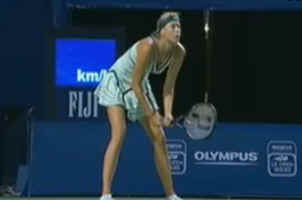 This is the first time that they have met
Alisa serving first and quickly to 0-40 but held. Maria held 40-15. 15 minutes game Alisa so far gave 14 break points opportunity and Maria took it. It is very clear that her second serve is no match for Maria. Maria holding her serve for a 3-1 lead. Maria breaks again next game for a 4-1 lead. Now its time for Alisa to see a break point but Maria held for 5 -1 lead. Elisa finally held serve and now Maria serving for the set at 5-2. maria took forever but finally got the set 6-2.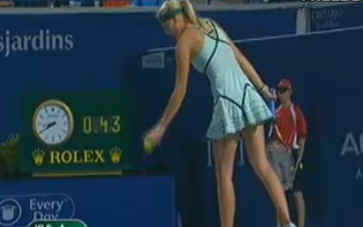 The first set took 56 minutes maria did 14 winners and 13 unforced errors with 3 aces and 3 double faults. Alisa had 8 winners and 15 Unforced errors with 2 aces and 3 double faults.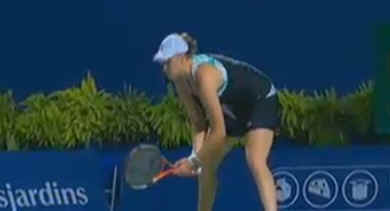 Alisa then called her coach , he told her to push more.
Must of helped her because she won her first game and broke Maria and leads 4-1. Maria then held and breaks. 4-3 29 strokes rally in that game and finally Maria held. Alisa held again and Maria double fault 9 to give the set to Alisa.
The story of that set is Maria double faulting at key points to give Alisa the set and also Alisa serving better and being more agressive.
Then they both asked for their trainer. Maria's trainer said to stay tough and agrresive even though Maria said that her arm was tired which is understanable it is her 6 yournament since she has been back and been playing lang matches this week and late on top of everything.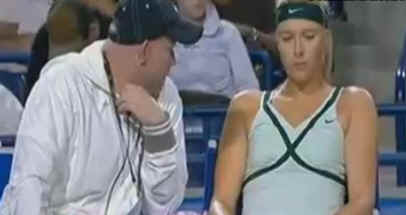 Alisa start the third set by holding. Maria held to love and we heard a couple of cmon from Maria. Alisa did here her 5th double fault but held for a 2-1 lead in the third set.
Double fault killing Maria again as she give the game to Alisa. 3-1 Alisa serving but now she double fault 3 times, Maria not done yet she breaks back and they are on serve again.
Maria on fire again and she hold to love with a lot of determination. 3-3
Maria missed a few opportunity in that game Alisa is leading 4-3.
Maria make an outstanding cross court shot to hold 4-4.
Maria keeps fighting and breaks to serve for the match.
Alisa calls her coach to discuss how she can break back.
Maria keeps her focus and her fighting spirit to serve and win the match. you could see in her eyes how much she wanted to win and she did 6-2, 4-6, 6-4.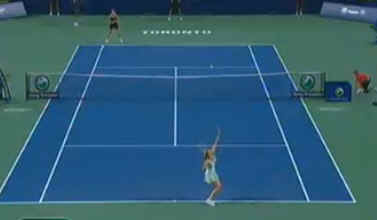 In her post interview she was asked about her stamina for the final. Maria said its the final after that i have a week off until the us open so for sure I will use all that have to fight and try to win.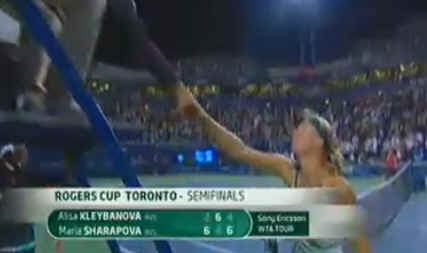 Maria will meet Elena Dementieva that won in the afternoon so it will be an all Russian final at 1.30pm today.
ROGERS CUP
Toronto-CAN
August 17-23, 2009
$2,000,000/Premier
Hard/Outdoors
Latest News
Elena Dementieva defeats Serena Williams and moves on the final of the Rogers Cup in Toronto
Maria Sharapova wins her match at the Rogers Cup in Toronto over Agnieszka Radwanska
Elena Dementieva wins her match at the Rogers Cup in Toronto against Samantha Stosur
Kim Clijsters losses her match at the Rogers Cup in Toronto against Jelena Jankovic
Maria Sharapova wins her match at the Rogers Cup in Toronto over Vera Zvonareva
Maria Sharapova wins her first match at the Rogers Cup in Toronto over Nadia Petrova
Jelena Jankovic wins Western & Southern Financial Group Women's Open title in Cincinnati