Interview with Elena Dementieva after her win over Camille Pin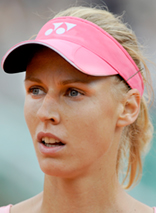 Questions for Elena on Tuesday, September 1, 2009
Q. Are you looking for real estate here in New York City?
ELENA DEMENTIEVA: No, no.
Q. You've had a really great career, won a lot of titles, won the gold medal. Do you ever feel any sort of kinship with Dinara or Jankovic that they've been No. 1 but haven't won a Grand Slam? Do you feel maybe it's a little unfair or unlucky at this point?
ELENA DEMENTIEVA: Well, first of all, I don't compare myself with anyone else. So it's hard to compare me for Dinara or Jelena.
I think not to win a Grand Slam, it's not unfair and it's not unlucky. It's just how it is. You know, you have to work hard if you want to win it.
It's definitely a big goal in my career still. I'm just trying to work hard and let's see if I can do it.
Q. All three of you are in the top half. Do you feel like maybe it's your time, one of you is due?
ELENA DEMENTIEVA: I don't look at the draw. I just take one match at a time. It's a long way to go, especially talking in the beginning of the first week. So, yeah, I don't look at the draw that far.
Q. Yesterday Serena seemed more excited talking about her side businesses, writing a book. Do you have any side businesses?
ELENA DEMENTIEVA: I have no time for that. Too busy on the court.
Q. There's been a lot of talk about some of the serving on the women's tour. You're someone who has actually turned the corner and improved your serve. Why do you think it's a difficult stroke to master sometimes?
ELENA DEMENTIEVA: Well, it looks like this should be the most easiest shot because you are the only one responsible for that and you have all the time in the world to make it happen.
I just guess everyone has, you know, different problems, something to improve in the game. For me it was the serve.
But I still feel like it's not about one particular shot. You know, you really have to be into the game. You really have to, you know, really play and not to say, How is my serve or my return, backhand or forehand? It's a game.
Q. Have you come into New York feeling more confident, or is this about as confident as you have felt?
ELENA DEMENTIEVA: I just like to play here, you know. I play my first semis here. I just have so many great memories playing on center, you know, just on this stadium.
Every time I come, I feel very exciting.
Q. How do you feel about the way you played today? It clearly was one sided. Is this what you were looking for in your first round match?
ELENA DEMENTIEVA: Yeah, I think it was a good start for the week. I was pretty aggressive today. I think the most important thing was, you know, be focused on the game and not to get her rhythm, which was quite slow.
You know, I'm glad I was able to stay all the way and not to lose my concentration.
Q. Do you know anything about your next opponent, Melanie Oudin?
ELENA DEMENTIEVA: I heard about her. Had a big game against Jelena Jankovic in Wimbledon. I didn't see the match. I know she's very talented, young player. Well, never play against her before, so it will be our first meeting.
Other News on Elena
Elena Dementieva losses her match against Melanie Oudin
The new Sony Ericsson WTA Tour Rankings has been released Elena Dementieva moves to number 4, Maria Sharapova to 30 and Alisa Kleybanova to 28.
Elena Dementieva wins the Rogers Cup Tournament in Toronto by defeating Maria Sharapova in 2 sets
Maria Sharapova moves on the final of the Rogers Cup in Toronto by defeating Alisa Kleybanova
Elena Dementieva defeats Serena Williams and moves on the final of the Rogers Cup in Toronto
Elena Dementieva wins her match at the Rogers Cup in Toronto against Samantha Stosur