Interview with Maria Sharapova after her win over Christina McHale at the 2009 US Open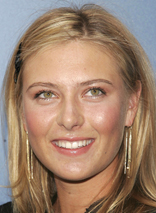 Q. Your thoughts on the match, the way you're playing right now?
MARIA SHARAPOVA: I thought I, you know, did a good job of starting off really good, especially not knowing her game, really how she played. I haven't seen much of her, if at all. So against those types of opponents, it's just really important to try to figure it out as fast as you can.
Once I did, I thought I did the right things. I thought I moved a little bit better than the other day and got good court coverage.
Q. Your thoughts on playing Melanie, the upcoming match?
MARIA SHARAPOVA: Yeah, I saw some of the match. I saw the way Elena played. I thought she could have done a few things better. Certainly, when Melanie had to step it up, she certainly did. In the times when she could have made errors, she came up with some really good shots. I mean, I've got a tough round ahead of me. Also somebody that I've never played against before, someone that's going to come out, and I'm sure she's gonna swing and have nothing to lose, which she doesn't.
But I'm looking forward to that.
Q. Usually when you play in big matches, you're everybody's favorite. Tonight was one example, and maybe the next match will be another example where you're playing an American, a kid.
MARIA SHARAPOVA: I think that's totally understandable. We're in New York City. I'm a Russian playing against a young, up and coming girl that has a tremendous amount of potential.
I think it would be strange if they weren't rooting for her.
Q. Does it enter your mind that it would be really good to try to get this thing over quickly so the fans don't have something to get excited about?
MARIA SHARAPOVA: I mean, to be honest, when I'm on the court, I try to I don't focus on I know there are many people watching the match, but I have enough experience to know my surroundings and know where I'm playing. I don't concentrate on the fact that someone is rooting, you know, against you or with you.
You obviously feel the energy of the crowd. I think numerous times that's helped me get through tough matches. But at the end of the day, it's about being within yourself, really focusing on, you know, what you have to do.
I mean, if you think about, Oh, you know, I got to finish this really fast so the crowd doesn't get into it, I mean, I think you're going to be screwed really fast, so...
Q. Christina was saying playing against you made her learn how far she has to go to become a champion. Were you ever in that position?
MARIA SHARAPOVA: Yeah, I played Monica Seles in Palm Springs many years ago. First two games I thought the played the best tennis in my life. I think I only won one of those and didn't win a game after that. I came off the court. I remember telling my parents, I thought I played so well and the score line is just horrible. Where do I go from here (laughter)?
You just keep working. I was fortunate to get to play her. I thought that experience really helped me because I realized I had a lot of work to do, yeah.
Q. I know it's nice to win easily, but do you relish the thought of playing a player who competes very well and fights?
MARIA SHARAPOVA: Yeah. You mean in my next round?
Q. Is it more fun to know going in this is not somebody that is going to quit in the game?
MARIA SHARAPOVA: I have to treat every opponent as someone that's going to go out there and compete. A lot of it is that in the sport. If you're not a big competitor, I've always said this game on most occasions is more mental, how strong you are mentally out there than physical. It's all about competing and fighting and knowing that no matter what the score line is, it's not over until, you know, you're shaking hands.
Q. Do you think athletes are born that way or do you learn that?
MARIA SHARAPOVA: That's a tough one. I don't know. I mean, I certainly think life experiences contribute to it certainly. I mean, if you're young and you're always used to getting things and everything is brought to you on a golden plate, then going on when you're older, you probably feel like all things are going to be brought to you, and you sometimes forget that you have to work for things.
I mean, my parents set a really good example as a child that you have to work for every single thing that you have in your life. That's what I really admired in my parents, is that they always taught me it's so hard to earn something and gain something. We're not just talking about money. I mean, in life in general. And it's so easy for it to go away and to lose it.
Q. Obviously you were a very different kind of 17 year old player. You were at a different level than she is now. If you don't have that fighting spirit by 17, is it all over? Can you learn it after that?
MARIA SHARAPOVA: I don't think so. I mean, I think a lot of it also has to do with belief. If you learn from your past experiences or if you felt like you were a little soft in certain matches, you know, maybe in the next opportunity you get against I don't know a top player, a match you should have won, then you try to change that, and you try to change your attitude.
I think it's almost always disappointing to see players get down on themselves. I mean, I've had my moments in my career, as well. And sometimes when you're in the moment, you want to let your emotions go. But I think it's just such a strong aspect in somebody's game and life when they're just tough.
Q. I know you have strong connection to the States, but you're a Russian. Is it good to see an American woman player coming up?
MARIA SHARAPOVA: Absolutely. I think it's funny. Every Grand Slam you go to, you know, when you're in London, How is the LTA doing? When you're in America, How is the USTA doing? I mean, you certainly see a great amount of talent coming up. I think it's great. Not only do you have that; you also have Venus and Serena who are 2 or 3 in the world. I think they're doing pretty good.
Q. How is your serve doing?
MARIA SHARAPOVA: I thought I served pretty good tonight. You know, I was trying to go for bigger serves tonight and try to get my percentage up a little bit. But it still wasn't as high as I wanted it.
But, you know, I think the goal is to keep going after the serve. I did a good job of that, especially on the second, yeah.
Q. What is it like to walk out on Arthur Ashe at night for the first time? I don't remember if you remember your first time.
MARIA SHARAPOVA: Actually, I think my first time was a doubles mixed or doubles match. I don't remember what it was.
Q. The first singles match.
MARIA SHARAPOVA: Yeah, that's a little bit different.
I actually don't remember what that was. But it's one of those just really cool experiences that you can't really explain until you actually get the opportunity to do. It's like asking, How do you feel when you hold up a Grand Slam trophy? You say it feels amazing, but I don't think words can really describe it.
You know, as a tennis player, even if it's not a final, even if it's just a first or second round, walking through the tunnel where you know so many legends have walked through, walked away from the court holding these incredible trophies, to be able to walk that same path is pretty special.
Q. Elena said she might have been overplayed this summer. She didn't feel particularly motivated going on court. When you're feeling a little flat, how do you push yourself through?
MARIA SHARAPOVA: I think I'm a little bit different because I started the season later. You know, I mean, I'm more than happy to be playing tournaments and playing matches. Obviously it's not easy. I mean, it's a good thing to be getting to the later stages of a tournament result wise. But it also takes a lot out of you, especially with the one week tournaments, and in my case not having byes in those weeks.
But, I mean, that's the schedule. You know, that's what it is. You just try the good thing is you have a week, unless you're playing New Haven, you have that week to recoup, recover, get ready. It's the last slam of the year, so...
Q. I know you take things one at a time. The way you've been playing, when you see a couple key people in your side go down, you now have to consider yourself a real contender for this tournament?
MARIA SHARAPOVA: Just because other people are struggling doesn't make me a bigger contender. I'm a contender when I'm in the draw. That's the way I look at it. I play one match at a time. I have a certain opponent that I have to face on a daily basis. You just go about that.
I mean, other people's struggles don't make my draw or anything else in my path to a Grand Slam easier.
Q. Then let me ask you this: With the way you're playing, where would you put yourself?
MARIA SHARAPOVA: I mean, I certainly think I'm playing a lot better than I was when I first got back. You know, I feel like the belief in the game, the confidence is coming back. I think the one thing that I learned is, you know, when you find yourself in the middle of the match, you kind of I don't know, your shot selection goes well, went haywire. And I think I've been able to get that back.
That was the beauty of playing so many matches this summer, is I really felt like when every match, I learned from each situation. I was down, I was up. I had some easy matches, I had three setters. I played some good players. That's certainly going to help me if not here, then for the future, for next year.
Q. In Chile the producer of the exhibition is going to play in December. What do you think about that match, your visit in Chile?
MARIA SHARAPOVA: I'm not sure that it's 100% confirmed. But if it will be, it's pretty close, but if it will be, I'm very excited, because I'm going to have a longer off season, so I'm actually happy that I'll be able I'll probably be practicing in Florida. To be able to make that flight down and go to parts of the world that I've never been to and play against Gisela, after she beat me, you know, get some good matches against her, will be great.
Q. Any time you talk with Bollettieri with Marcelo Rios, is there something you know about Chile?
MARIA SHARAPOVA: The only thing I remember is taking a picture with him, watching him practice. He was really talented. He was actually my father's favorite male player at the time.
Q. Nice pick.
MARIA SHARAPOVA: Same attitude and everything.
Q. As an L.A. resident, your thoughts on the tournament moving to San Diego.
MARIA SHARAPOVA: Is it moving?
Q. Yes. To La Costa.
MARIA SHARAPOVA: I love La Costa, as well. I'd be happy to go there as well. The location of the tournament is great in San Diego.
Q. Weird not to have a woman's tournament in L.A.?
MARIA SHARAPOVA: Yeah, but I think one of the pitfalls that we had was that it was all the way in Carson. I think for the tennis fans that are in the sort of West Hollywood, Beverly Hills area, didn't have much enthusiasm to make an hour or hour and a half drive in rush hour.
I mean, I'm sure the crowds will be great in San Diego. So I'm looking forward to it.
Other News on Maria
Melanie Oudin will play againts Nadia Petrova in the second match on Arthur Ashe Stadium this morning at the 2009 US Open
Interview with Melanie Oudin after her win over Maria sharapova at the 2009 US Open
Interview with Maria Sharapova after her lost to Melanie Oudin at the 2009 US Open
Maria Sharapova will play tomorrow night at 7pm her second round match at 2009 US Open
Interview with Maria sharapova after her win over Tsevtana Pironkova
Maria Sharapova wins her first round match at the 2009 US Open
Maria Sharapova outfit to be auctioned at U.S. Open
Maria Sharapova will play tomorrow at the US Open
Maria Sharapova at Arthur Ashe Kids Day
Elena Dementieva wins the Rogers Cup Tournament in Toronto by defeating Maria Sharapova in 2 sets
Maria Sharapova moves on the final of the Rogers Cup in Toronto by defeating Alisa Kleybanova
Maria Sharapova wins her match at the Rogers Cup in Toronto over Agnieszka Radwanska
Maria Sharapova wins her match at the Rogers Cup in Toronto over Vera Zvonareva
Maria Sharapova wins her first match at the Rogers Cup in Toronto over Nadia Petrova